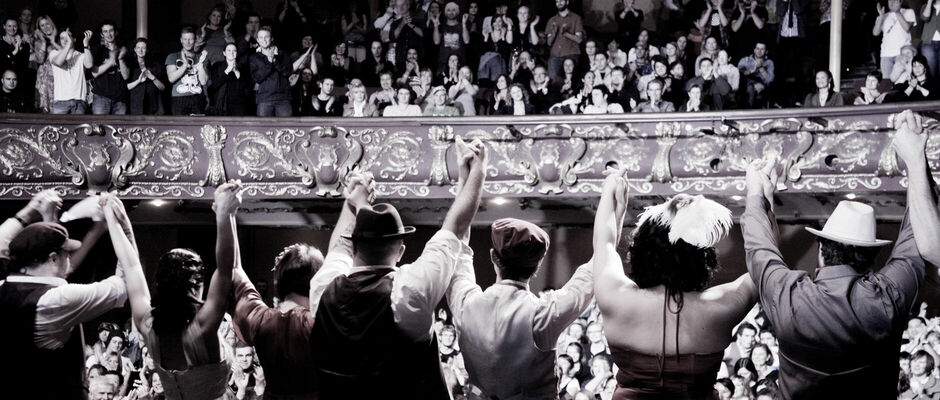 FMP Homeland Cast
Bio
Fly My Pretties has proudly introduced many breakthrough musicians over the past decade and once again, the Homeland Tour brings together an exciting mix of undiscovered and established talent.
The new cast reflects a diverse mix of NZ's musical landscape and welcomes: Anika Moa, Mel Parsons, Ria Hall, Barnaby Weir, Jarney Murphy, Kara Gordon, Louis McDonald, Mark Vanilau, Mike Fabulous, Nigel Patterson, Ryan Prebble & Shaun Blackwell.
The Tour will see Fly My Pretties hark back to their musical roots with a sound reminiscent of their first 2 live albums - Live at Bats & The Return Of – an unashamedly kiwi sound stepped in folk, roots, soul & rock.
Fly My Pretties are travelling to 18 towns to perform and record their new album plus the classics. Expect an intimate production and a new visual concept that will uniquely reflect upon the heritage and heartland of NZ.
All show & ticket info can be found HERE
NEW FLY MY PRETTIES CAST MEMBERS:
Anika Moa
Ever-engaging, singer-songwriter Anika Moa needs little introduction to Kiwi listeners. Since releasing her debut album in 2001 she's racked up numerous accolades - including winning four Tui awards and releasing as many lauded albums. Renowned for her witty onstage banter, honest lyrics and captivating voice, Anika is currently in the midst of writing her fifth solo album (set for release late 2013) as well as a baby album (out in September) - no doubt inspired by her cheeky 2-year old twin boys that she's a proud and loving mother of.
Mel Parsons
Mel Parsons is a modern folk artist on the rise. Following the success of her debut record 'Over My Shoulder' in 2009, the Kiwi singer/songwriter and two-time Tui-award finalist for "Folk Album of the Year" recently released her sophomore album Red Grey Blue to great acclaim. After growing up in the remote rural west coast of the South Island, Mel has spent the past 10 years in the city and on the road, gleaning material from life, love and loss. Recent months have seen the adventurous musician win audiences over in Australia, UK, Ireland, Germany, and NZ.
Ria Hall
After joining the Fly My Pretties' ranks for the first time for the collective's A Day On The Green and WOMAD performances, Ria returns in an official capacity to lay down her vocal talents on this new FMP record. An in demand talent, Ria has performed with Hollie Smith, Eru Dangerspiel and TrinityRoots; just recorded and released "Sensitive To A Smile" as part of the Aotearoa Reggae All Stars; is currently touring alongside the country's leading Maori songbirds Maisey Rika, Betty-Anne Monga, Whirimako Black and is completing her debut album.
Kara Gordon
Hailing from Auckland, Kara's career to date has been ridiculously colourful. A guitar and string instrument aficionado, he spent his youth exploring psychedelic rock, metal, and later jazz and blues while attending the prestigious Berklee School of Music on a full scholarship. Since then, he's shared the stage with huge names including Joe Satriani and opened for Ozzie Osbourne. Currently, Kara has been shoulder tapped by Alabama 3's Larry Love and is set to record with Love's legendary blues band, as well as respected musician, Finlay Quaye.
Louis McDonald (Five Mile Town)
At only 18 years old, Louis McDonald is already an accomplished songwriter and musician. Louis' much-talked about indie-folk / rock band, Five Mile Town (in which he is the lead singer and main lyricist) has made waves and is touted as the next big thing. Their songwriting talents have drawn high praise both here and internationally - recently winning the Teen Category of the prestigious '2013 International Songwriting Competition' for "You Would Know". Having just relocated with his band, Louis is definitely a true kiwi talent to take note of.
Mark Vanilau
Hailed for his velveteen voice and unique approach to harmonies, Christchurch native Mark has made a career performing alongside many well-known Kiwi names including Dave Dobbyn, Hollie Smith and Ladi6 and is part of the trio 'Vanilau, Maxwell, Baker' (alongside noted musicians Warren Maxwell and Louis Baker). Now, ready to step into the spotlight, Mark has recently unleashed his stunning debut single 'Giant of the Sea', which will appear on his highly anticipated EP set for release soon.
Shaun Blackwell
Although a fresh face to many, Shaun has well and truly done the yards and cut his teeth as a musician over the last few years. A singer and guitarist in Wellington four-piece, John The Baptist, he and the band have carved their own niche in the New Zealand music landscape and are a regular fixture in Wellington's live music scene. With a signature folk/country styling and punk delivery, Shaun and his band have been prolific, touring and releasing three EPs in four years.

RETURNING FLY MY PRETTIES CAST MEMBERS:
Barnaby Weir
'Leader and co-founder of Fly My Pretties' is one of many hats donned by the enigmatic, Barnaby Weir. Anything but idle, Barnaby has also established himself as a successful solo musician in the past few years - all the while juggling his duties as front man for well-known outfit, The Black Seeds. Having toured extensively throughout the Southern Hemisphere 2013 summer, Barnaby and his Black Seeds bandmates are once again on the road, currently in the midst of a European Tour.
Jarney Murphy (The Black Seeds)
The man with the rhythm sticks, Jarney Murphy has kept the beat with The Black Seeds since 2004 and been a key member of Fly My Pretties' backbone since he drummed on The Return Of… tour in 2006. Keeping things fresh, the energetic drummer can also be found knocking out grooves in his side project 'About The Deadlines' – a Wellington four-piece inspired by blues & psychedelic rock.
Mike Fabulous (The Black Seeds)
Multi-tasker Mike Fabulous is the guitarist for The Black Seeds and is a pivotal member of Pretties - having played in every incarnation to date. Impressively, he is a formidable bassist, DJ and producer. Under the space-bending alias 'Lord Echo' he has explored Afro-disco, Soul Reggae, Latin boogie, and Ethio-Jazz. His much-talked about underground debut Melodies was released in 2010 and he has just put the final touches on his second album, set for release in this galaxy and the not-so-distant future.
Nigel Patterson (The Black Seeds)
Nigel Patterson is a Wellington-based pianist, organist, composer and the keyboardist for The Black Seeds. Nigel is a purveyor of vintage instruments and has a contemporary all-original composition jazz trio under his own name. He is also the bandleader of The Mantarays - a noir exotica organ-fuelled psychedelic group, which hovers somewhere between Sun Ra and The Doors. Also a key part of the Fly My Pretties engine, Nigel has appeared with Fly My Pretties twice - in A Story and most recently, IV.
Ryan Prebble (The Nudge)
Ryan Prebble has beguiled audiences the world over with his stonking guitar rhythms and powerful gravelly voice, which is at times a gentle moan, at times a growl. A seasoned musician, Ryan has performed as a solo artist, has appeared in the last two Pretties incarnations, plus is currently the singer and guitarist in two bands - Wellington blues-rock trio, The Nudge as well as the psychedelic rockers, Spartacus R.
All show & ticket info can be found HERE