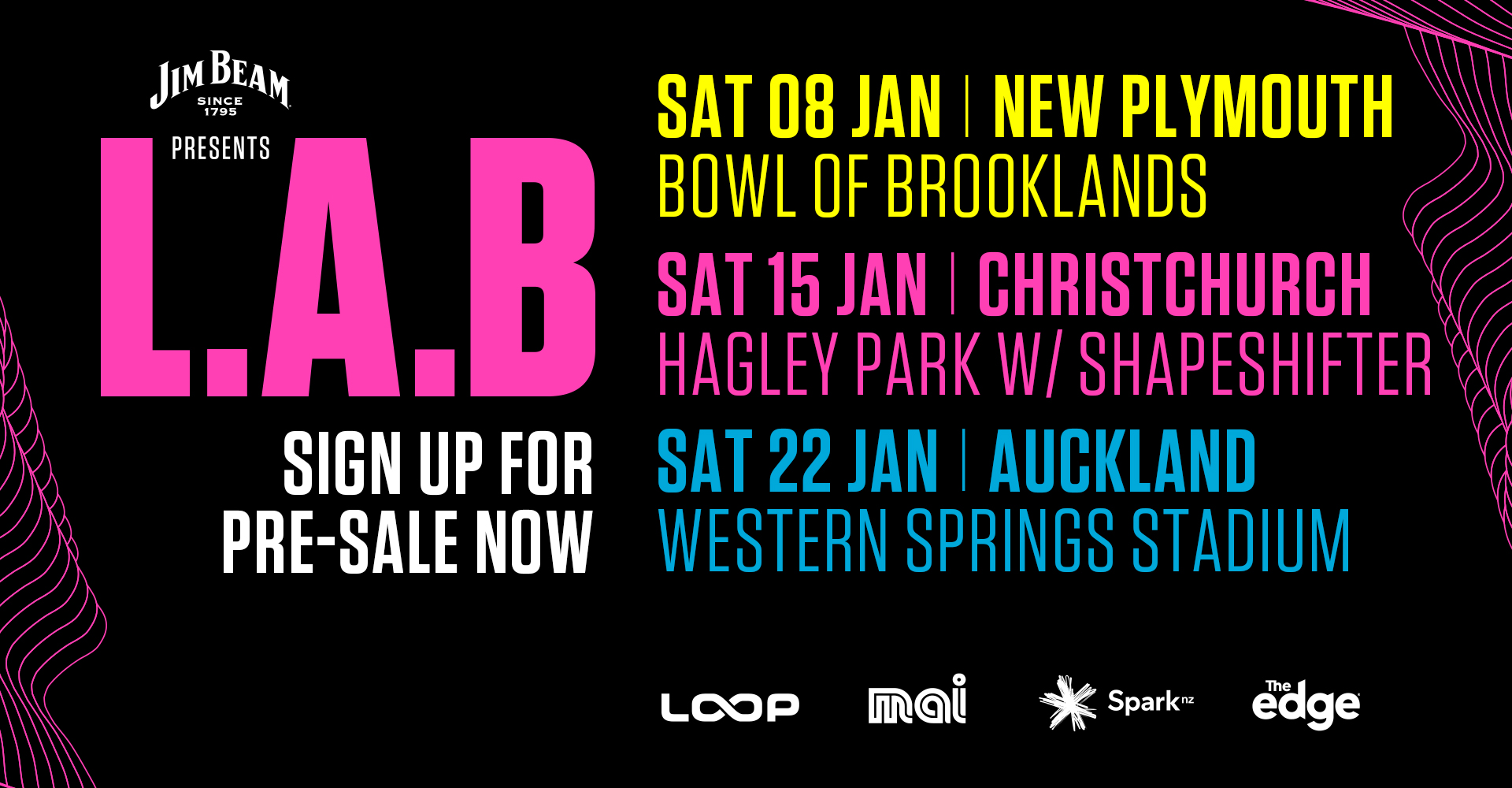 TICKETS ON SALE NOW
Saturday January 8, 2022 - Bowl Of Brooklands, New Plymouth
w/ support from Dave Dobbyn, Katchafire, JessB, Summer Thieves & RIIKI
Tickets available here - https://bit.ly/2THDS3u
Saturday January 15, 2022 - Hagley Park, Christchurch w/ Shapeshifter
w/ support from Ladi6, Katchafire, JessB & RIIKI
Tickets available here - https://bit.ly/2WopwWF
Saturday January 22, 2022 - Western Springs Stadium, Auckland
w/ support from Dave Dobbyn, Ladi6, The Black Seeds, Katchafire, JessB & RIIKI
Tickets available here - https://bit.ly/2V8JXGq
After a massive few years which has seen them hit number one multiple times and sell out shows across Aotearoa & Australia, L.A.B announce their largest run of shows ever for Summer 2022, presented by Jim Beam.
In their only NZ shows of summer 2022, these three epic Saturdays in January will see L.A.B performing alongside massive local lineups showcasing the country's best talent.
The first show sees L.A.B return to the iconic Bowl Of Brooklands in New Plymouth following last summer's sold out show. Christchurch's Hagley Park will see L.A.B combine with Shapeshifter for a huge double bill for both act's only South Island headline shows this summer. The run finishes with the band becoming the second local act to take on Auckland's Western Springs Stadiums for a festival-worthy lineup across one day.
The release of their album L.A.B IV saw the band cement themselves as one of the most popular acts in NZ, with the album debuting at Number One on the Official Album Charts, with single 'Why Oh Why' hitting Number One on the Official Top 40 Singles Charts, their second Number One. 2021 so far has seen the band perform sold-out shows in New Plymouth, Auckland, Wellington & Hamilton, with this run of shows being the biggest of their career.
Tickets for all shows on sale now from the above links!
These outdoor experiences will see L.A.B bringing the full lighting & visual experience L.A.B have become known for, alongside their unmatched live show. With an ever expanding catalogue, these shows will see the band performing tracks that have made them a household name, including 'In The Air', 'Controller' & 'Why Oh Why'.
The Christchurch show will see Shapeshifter combining with L.A.B for a double bill for both acts only South Island headline shows this summer. A local music institution, Shapeshifter remain one of the most popular acts in the country. With their new album Rituals out this month, the band will again show why they are NZ's premiere electronic act.
Each show will see a range of NZ's best & brightest talent creating a unique lineup in each city. After selling out New Plymouth's Bowl Of Brooklands in 2021, L.A.B's return visit will see them accompanied by Sir Dave Dobbyn, Katchafire, JessB, Summer Thieves & RIIKI.
Christchurch's double-header with Shapeshifter will see both acts joined by Ladi6, Katchafire, JessB & RIIKI. The final show of the three at New Zealand's largest music venue, Western Springs Stadium, will feature the massive lineup of Sir Dave Dobbyn, Ladi6, The Black Seeds, Katchafire, JessB & RIIKI.
Presented by Jim Beam, thanks to Mai FM, The Edge, Spark, Auckland Unlimited, New Plymouth District Council & Loop.