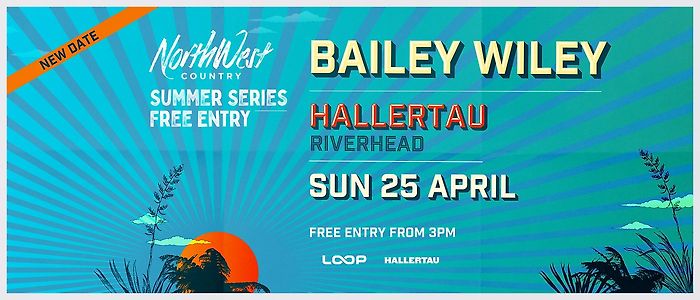 Bailey Wiley - Hallertau
When & Where
25 Apr 2021, 3pm, Hallertau, 1171 Coatesville Riverhead Highway, Riverhead
RESCHEDULED TO SUN APRIL 25
FREE ENTRY FROM 3PM
North West Country & Loop are excited to announce a Summer Series of Free Entry Shows this summer, featuring a range of exciting artists in Auckland's beautiful North West region.
All shows are free entry at four of the North West region's most-picturesque venues, with a range of local food, beer & wine available at each location.
"We're excited to be bringing this Summer Series of Free Shows to North West Country," says Phelan Pirrie, North West Country Manager. "With Kiwis exploring their own backyard more than ever, we hope these shows will give people a chance to check out some of NZ's finest venues, and a sample of what the stunning North West region has to offer, with a great afternoon of local music, food & beverage."
One of NZ's finest soul/R&B singers Bailey Wiley will be performing live at Hallertau's Riverhead home-base. After performing at festivals across NZ this summer, this show will see Wiley coming home and playing in Hallertau's tranquil Biergarten.
Showcasing the amazing food & beverage on offer in Auckland's North West region, Hallertau is located just 30 minutes from Auckland city. Each show is free entry, with early arrival encouraged. Presented by North West Country & Loop.