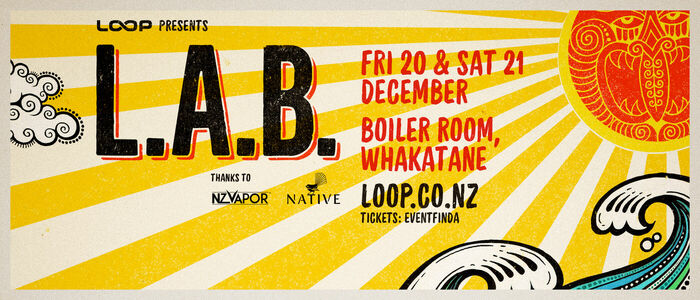 Boiler Room, Whakatane - SOLD OUT
When & Where
20 – 21 December 2019, 8pm, Boiler Room, 79 The Strand, Whakatane
SOLD OUT
Loop are proud to present L.A.B. are kicking off the summer live music period with a run of shows this December. One of NZ's hottest live acts will be performing across the North Island leading into the New Year period. This run of shows will not only be the culmination of another massive year for L.A.B., but will celebrate the release of their upcoming third album, due out late 2019.
The tour will kick off with a special two-night hometown run in Whakatane at the Boiler Room, their first hometown shows in a number of years.
Recently named by Radio New Zealand as New Zealand's Best Live Act, L.A.B. are gearing up for another massive summer period. These shows will be the first since the upcoming release of their third album, their third in three years. Set for release in late-2019, the album continues to build on the momentum that has seen them become a favourite on the NZ festival circuit.
Thanks to NZ Vapor & Native Sparkling.