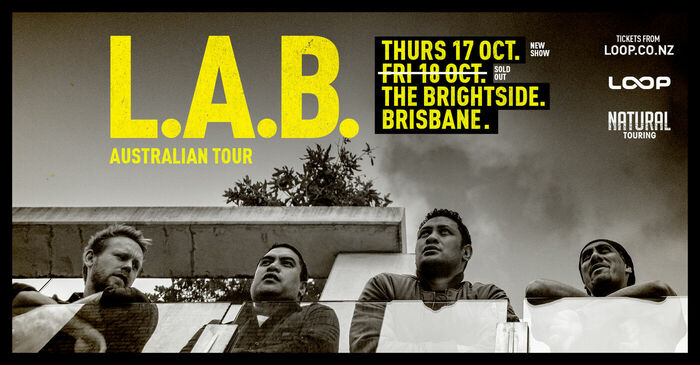 Brisbane - L.A.B. [Second Show Sold Out]
When & Where
17 Oct 2019, 8pm, The Brightside, 27 Warner St, Fortitude Valley
Loop & Natural Touring are proud to announce L.A.B. are heading to Australia this October. Their first visit to Australia in over three years will see the band running through tracks which have seen them become one of the most sought-after live acts in New Zealand.
Recently named by Radio New Zealand as New Zealand's Best Live Act, these shows will see the band not only perform tracks from their first two albums, but also preview material from their third album, due for release in December.
The past two years have seen L.A.B. become a staple of the NZ festival circuit, built off the release of two albums in two years. Since their release, L.A.B. I in November 2017, and L.A.B. II in December 2018, both albums have not left the NZ Top 20 Album Charts, and have helped the band become one of NZ's most popular acts. Summer 2019/20 will see not only more massive live shows, but also the release of their third album, speaking to the amazing work ethic of L.A.B..