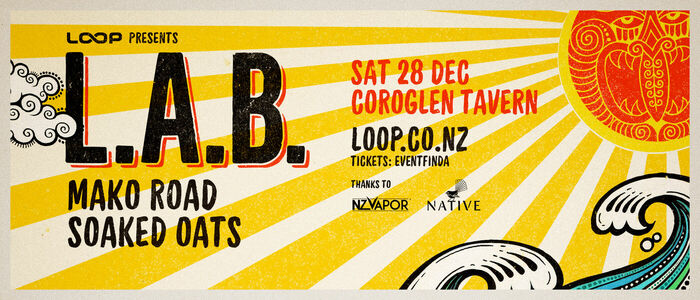 Coroglen Tavern w/ Mako Road & Soaked Oats
When & Where
28 Dec 2019, 6pm, Coroglen Tavern, 1937 State Highway 25
TICKETS ON SALE FROM https://bit.ly/330Ar7N
Loop are proud to present L.A.B. are kicking off the summer live music period with a run of shows this December. One of NZ's hottest live acts will be performing across the North Island leading into the New Year period. This run of shows will not only be the culmination of another massive year for L.A.B., but will celebrate the release of their upcoming third album, due out late 2019.
These shows will see L.A.B. performing alongside Mako Road & Soaked Oats, two acts who have also seen sold out audiences across Australia and NZ through 2019. Christchurch's Mako Road have become known for their high energy live performances, and have established themselves as one of NZ's hardest touring acts on the back of the release of two EPs in 2018. 2019 has already seen Soaked Oats perform tours across Australia, the UK and New Zealand, all on the back of their new EP Shuggah Doom.
Recently named by Radio New Zealand as New Zealand's Best Live Act, L.A.B. are gearing up for another massive summer period. These shows will be the first since the upcoming release of their third album, their third in three years. Set for release in late-2019, the album continues to build on the momentum that has seen them become a favourite on the NZ festival circuit.
These shows will see three of NZ's best live acts combining for two epic shows. Thanks to NZ Vapor & Native Sparkling.