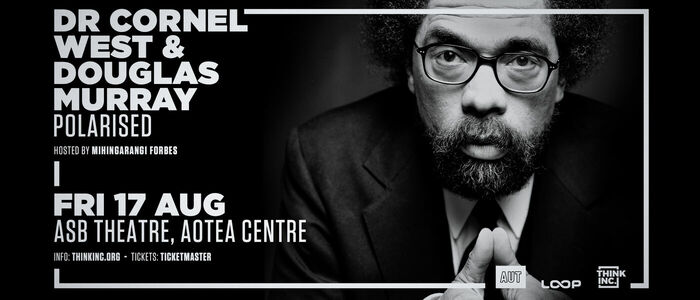 Dr Cornel West & Douglas Murray – Polarised
When & Where
17 Aug 2018, 7.30pm, ASB Theatre, ASB Centre, Auckland
Friday 17th August | ASB Theatre, Aotea Centre, Auckland
Brought to you by AUT & Loop
Never afraid to ruffle a few feathers, celebrated intellectuals Dr. Cornel West & Douglas Murray will duke it out for the first time ever in New Zealand this August.
Polarised will see the two scholars converse on topics such as foreign policy, identity politics, race issues, equality, and the multitude of other subjects that are bound to pop up when these two share a live microphone.
The two will be joined on stage by Mihingarangi Forbes, who will mediate a lively discussion, followed by an audience Q&A session.
A renowned philosopher, social critic and political activist, Dr. Cornel West has long been an avid supporter of African American liberation groups, whilst being a vocal critic of the Obama administration. Influenced at an early age by the Black Panther Party and the militancy of Malcolm X, West has kept alive the passion and legacy of both Malcolm X and Dr. Martin Luther King Jr. since the 1980s.
Author of acclaimed works such as 1994's 'Race Matters' and 'Democracy Matters', West focuses heavily on the roles that race play in society today. Proving himself more than a one-trick pony, West has taken the spotlight in many different mediums – ranging from showcasing his acting ability as Councillor West in The Matrix sequels, to releasing hip-hop albums featuring Andre3000 and Prince. The son of a Baptist minister, a radical democrat and a democratic socialist, West is an outspoken voice in American leftist politics, and is currently the Professor of the Practice of Public Philosophy at Harvard University.
Taking a seat beside Dr. Cornel West is acclaimed British author, journalist and political commentator, Douglas Murray. In 2017, Murray released his highly praised book 'The Strange Death of Europe', focusing on firsthand accounts and criticisms of mass Islamic immigration and problems of multiculturalism in the EU.
Standing out as one of Britain's go-to critics on Islam, Murray is also an expert on immigration, free speech and gay rights. A seasoned regular on debate panels, talkback radio shows and television forums, Murray will be bringing his conservative expertise to NZ for the first time.
The two will be joined on stage by Mihingarangi Forbes. An award-winning investigative journalist, Forbes will be bringing her own experiences with race issues, equality and gender politics to the stage for a lively evening.
This August, join Think Inc for Polarised, which will see Dr. Cornel West and Douglas Murray tackle the topics which most would choose to sidestep, live on stage in Auckland.
Think Inc. & Loop Present:
Dr. Cornel West & Douglas Murray – Polarised
Friday 17th August | ASB Theatre, Aotea Centre, Auckland

Tickets on Sale Thursday 21st June from Ticketmaster