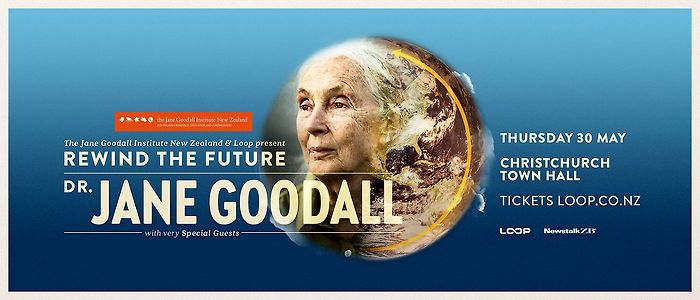 Dr Jane Goodall - Rewind The Future Christchurch
When & Where
30 May 2019, 7.30pm, Christchurch Town Hall, 86 Kilmore St
The Jane Goodall Institute New Zealand & Loop are proud to welcome the incomparable Dr. Jane Goodall back to New Zealand in 2019 to help us Rewind The Future. Discover how Dr. Goodall and her Institute are helping to rewind the future for planet earth. Thanks to Newstalk ZB and Yealands Family Wines.
This evening will feature a presentation by Dr. Goodall, and a fireside chat with our guest host, John Campbell. There will also be an acoustic musical performance from members of Fly My Pretties, and a special presentation from 16 year old Maha Fier, member of the Jane Goodall Institute New Zealand Roots & Shoots programme.
Proceeds from each event will go directly to the Jane Goodall Institute New Zealand, assisting the important work they do to help create a better world for people, other animals and our shared planet.
Dr. Goodall will speak about devoting her life to making a difference for all, and the power of individual action to enable us to change the course of time. Through her work and that of her Institute, Dr. Goodall has seen the mounting global crises that we currently face first hand, such as climate change, environmental degradation, poverty, and global conflict. These talks will touch on Dr. Goodall's incredible life story, along with solutions to these problems to help turn back the clock and create a future where people, animals and the environment live in balance.
Limited VIP Meet & Greet tickets available for the show. All Meet & Greet tickets include the bests seats in the venue, plus an opportunity to meet Dr Goodall before the event, get a book signed & a professional photo with Dr Goodall. Complimentary drinks & canapes will also be provided. Meet and Greet is expected to start at 5:30pm. 100% confirmed timings and function room details will be emailed out to the ticket purchaser at least 7 days prior to the event.
From the moment she set foot in Gombe Stream National Park at age 26, Dr. Goodall was on a path to make an importance difference in the world. Her ground-breaking research earned Jane the label of "the woman who redefined man" as it rocked the scientific world, and helped shed new light on the relationship between humans and animals.
Dr. Goodall went on to establish the Jane Goodall Institute (JGI) in 1977, which has since worked to advance her vision and work around the world for generations to come. JGI is widely recognised for researching and building on Dr. Goodall's pioneering work in community-centered conservation and sustainable development projects, helping to improve the lives of people, animals and the environment. 1991 then saw Dr. Goodall establish Roots & Shoots, a global sustainability and citizenship education programme which assists young people in 100 countries in becoming conservation activists, and the leaders that the world so urgently needs.
Dr. Goodall's eloquent ability to raise public awareness and understanding has become instrumental in her work. She is the author of numerous books that have engaged an international readership in her life and conservation insights, and her life and work have been the subject of numerous films and documentaries. Dr. Goodall is the recipient of many honours, including being named as a United Nations Messenger of Peace and a Dame Commander of the British Empire.
Today, Dr. Goodall travels the world an average of 300 days per year, speaking about the threats facing chimpanzees, environmental crises and her reasons for hope that we will ultimately solve the problems that we have created.
Dr. Goodall emphasises the interconnectedness of all living things and the collective power of individual action, urging her audiences to recognise their personal responsibility and ability to effect change. "Every individual matters," she says. "Every individual has a role to play. Every individual makes a difference."
The clock is ticking for planet Earth. Don't miss Dr. Jane Goodall in New Zealand in May 2019 and share in her stories of inspiration and hope, and discover how we can all Rewind the Future.