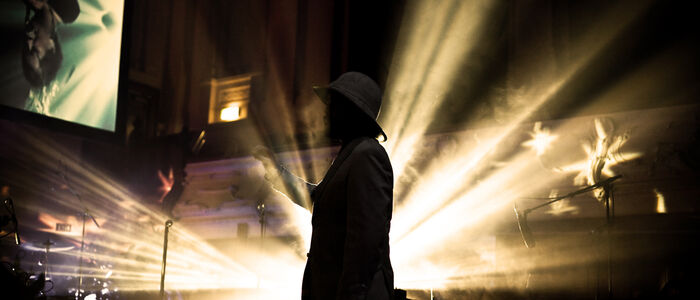 Eru Dangerspiel at The Auckland Town Hall
When & Where
8 Aug 2009, Auckland
Booooooooom! That rocked.
On August 8th 2009, an incarnation of Eru Dangerspiel, which consisted of close to 40 band members, gathered onstage to blend unique live jams awash with visual imagery, exploring the depths of harder edged funk, free jazz and futurism - all captured and released on the CD/DVD Good News For The Modern Man - Live at The Auckland Town Hall.
Check out amazing pics from the show on LOOP's facebook here
PERFORMERS: Riki Gooch, Whirimako Black, Jonathan Crayford, Chip Matthews and Julien Dyne (both Opensouls), Anna Coddington (Fly My Pretties), Nathan Haines, Laughton Kora and Fran Kora (both Kora), Isaac Aesili (Solaa, Opensouls), Mara TK (Electric Wire Hustle, Fly My Pretties), Parks (Ladi 6), Ned Ngatae (Dimmer), Mike Fabulous (The Black Seeds, Fly My Pretties). Joe Lindsay, Toby Laing and Scott Towers (all Fat Freddy's Drop), Lewis McCallum, Olga Gryniewicz, Submariner (Che Fu, Feelstyle, Dimmer, The Turnaround), Patrick Pihama (Riki's uncle!), Ross Burge (The Muttonbirds), Will Rickets (The Phoenix Foundation), The Dangerspiel Municipal Choir.