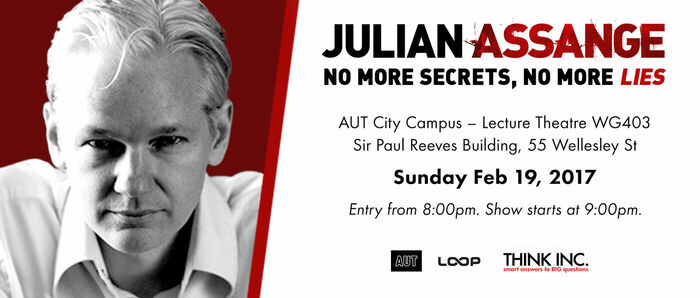 Julian Assange: No More Secrets, No More Lies
When & Where
19 Feb 2017, 8.00pm, AUT City Campus – Lecture Theatre WG403, Sir Paul Reeves Building, 55 Wellesley St
Sunday February 19, 2017
A Think Inc. Event
Proudly brought to you by AUT and Loop
In February 2017, Think Inc. present Julian Assange: No More Secrets, No More Lies, in what is a rare opportunity for a real time interview and Q&A.
From the Embassy of Ecuador in London, Assange will be transported live back to Auckland & Melbourne simultaneously via video link, with audience members in both cities having the opportunity to ask questions to one of the world's most notorious figures. This evening will see a talk from Julian himself, followed by a discussion with the evening's MC, and finishing with a live audience Q&A.
Champion for truth and transparency, or dangerous terrorist? Martyr to political conspiracy, or traitor? Courageous exile, or "fugitive from justice"? Hero, or villain? Whatever he is, Julian Assange is certainly a divisive subject.
Never one to shy away from controversy, Assange has been riling up global governments since founding WikiLeaks in 2006, squirreling out secret dossiers and classified information. This reached a crescendo with the 2010 release of the Iraq War Logs, which shocked the world with the number of civilian deaths and the failure of coalition authorities to investigate allegations of atrocities committed by their troops.
Accused of serious crimes by Swedish authorities in what many consider trumped-up charges, Assange applied to Ecuador for political asylum and has been living in its London embassy since 2012, despite the United Nations Working Group on Arbitrary Detention finding that he has been "arbitrarily detained". And he isn't easing off—during the 2016 US Presidential Election, Assange took aim at Hillary Clinton with the release of thousands of documents leaked from the Democratic National Committee, garnering him a pro-Trump stigma in social and political circles.
Assange has said of his polemical approach that "good journalism isn't about saying what's safe or what's likeable, it's about saying what's true. It's about getting on a soapbox and shouting that truth hurts, but matters."
The recent controversy surrounding WikiLeaks has become increasingly uncomfortable with accusations of irresponsible info dumping, colluding with Russian authorities, and even anti-Semitism. Media coverage has portrayed him as everything from a sinister double agent for Russian interests and an out of touch zealot, to an embattled martyr for a free media.
The conversation about media freedom and privacy is as crucial as ever, impacting personal freedoms and national security. Join the debate at Julian Assange: No More Secrets, No More Lies.
Julian Assange: No More Secrets, No More Lies
A Think Inc. Event
8pm, Sunday 19 February 2017
AUT City Campus – Lecture Theatre WG403
Sir Paul Reeves Building, 55 Wellesley St
Proudly brought to you by AUT and Loop