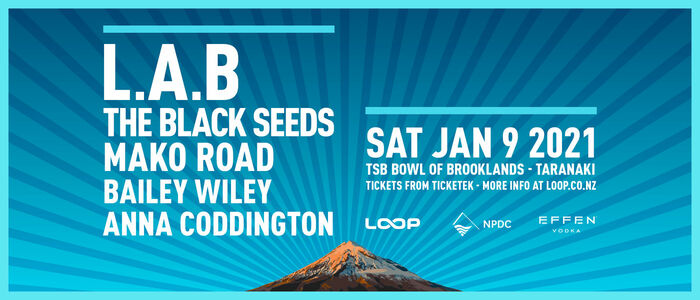 L.A.B at TSB Bowl Of Brooklands (SOLD OUT)
When & Where
9 Jan 2021, 5pm, TSB Bowl Of Brooklands, New Plymouth
(SOLD OUT)
** Timings **
4.00pm | Ticket Box Open
5:00pm | Gates Open
5:30pm | Anna Coddington
6:15pm | Bailey Wiley
7:05pm | Mako Road
8:15pm | The Black Seeds
9:30pm | L.A.B
- 11.15pm | Finish
* Gates / Entry **
- Brooklands gate off Brooklands Road or walk via Pukekura park.
- Race Course gate from race course carpark off Coronation Ave
- Kaimata Gate off Kaimata Street
- Gates open 5.00pm
** Parking **
- Pukekura Race Course or surrounding streets
** Food & Drink **
- 3 bars and a wide range of food vendors
- Free water on site
** What can people bring in? **
- Bags up to maximum A4 size
- Picnic type food
- Sealed water bottles up to 750ml
** What can people NOT bring in? **
- Alcohol
- Glass
- Bags larger than A4 size
- Commercial food e.g. Pizza Hut, KFC, McDonalds ete
- Umbrellas
- Deck chairs
No pass outs for the duration of the event.
Merchandise will be available for purchase at the venue.
** COVID-19 **
Special accommodations will be undertaken by Loop, Ticketek and the NPDC to align with government protocol around COVID-19, and any updates on COVID-related protocols and safety for this event will be issued as they come to hand. We strongly encourage the use of the NZ COVID Tracer App, and QR codes will be located across the venue for scanning. If you are feeling unwell at all, please stay at home. The safety of ticket holders is of the utmost importance, and everything possible will be done to ensure everyone is happy and safe at this event.
Sat Jan 9 - TSB Bowl Of Brooklands, New Plymouth
Loop are excited to announce L.A.B will be playing a special show at the iconic TSB Bowl Of Brooklands in New Plymouth this summer. Fresh off selling out Auckland's Spark Arena, the day will see L.A.B performing alongside The Black Seeds, Mako Road, Bailey Wiley & Anna Coddington, with a lineup that will not be seen anywhere else this summer.
This show will take place on Saturday January 9 in New Plymouth, serving as one of L.A.B's only headline shows over summer.
Bringing their renowned live sound to the Bowl, L.A.B. was founded by the legendary Kora brothers Brad Kora (drums) and Stu Kora (guitar, keys) alongside Joel Shadbolt on lead vocals & guitar, Ara Adams-Tamatea from the mighty Katchafire on bass & Miharo Gregory on keys. In three short years, the band have become the highlight on the live scene, selling out tours across NZ and Australia on the back of the release of three albums.
2020 has seen L.A.B sell out NZ's first arena shows since lockdown at Spark Arena & Claudelands Arena. Their new album L.A.B IV went straight to number one on the charts, featuring the number one single 'Why Oh Why'.
Joining L.A.B for this show is an exciting range of some of NZ's finest talents, including Wellington-legends The Black Seeds, playing tracks from their impressive back catalogue of summer anthems of reggae, funk and soul-infused goodness.
Mako Road will be joining the bill, and are an act who have established themselves as one of NZ's brightest up-and-coming talents. Their laid-back indie-rock sounds has seen them amass over 20 million streams, and following on from sold-out tours across NZ and Australia, will be bringing their psych/pop-infused sound to Taranaki.
Taranaki-local Bailey Wiley is set to return home to perform tracks from her growing back catalogue, including her most-recent self-titled EP from 2019. The acclaimed vocalist will bring her soulful sound to the Bowl, performing alongside a full band. Acclaimed singer-songwriter Anna Coddington completes the line-up, who has just released her new album Beams.
This epic lineup brings together an eclectic mix of five of NZ's finest musical talent, each performing their only Taranaki show together over summer.
Tickets on sale now from Ticketek.
Thanks to Loop, New Plymouth District Council, & Effen Vodka.