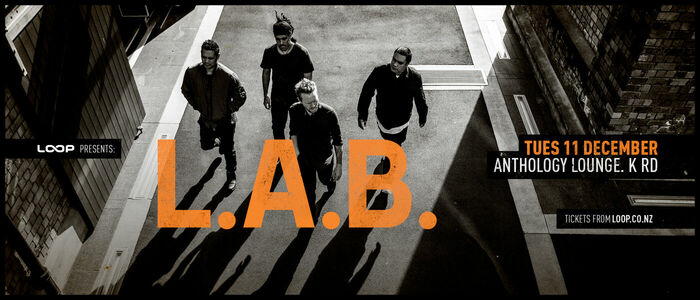 L.A.B. - Show & Music Video Shoot - Auckland
When & Where
11 Dec 2018, 7.30pm, Anthology Lounge, 375 Karangahape Rd, Auckland
L.A.B. are getting set to release their new album L.A.B. II on December 21, and need your help with a new music video. This evening will give you the chance to be featured in the crowd for the music video, and then get an exclusive preview of the new album with an intimate L.A.B. live set.
This evening will see L.A.B. film a new music video with you as the audience. Following this, the band will perform an intimate 60 minute set, showcasing tracks from the new album and more.
December 21 sees the release of L.A.B. II, the band's second album in as many years. II again sees 12 genre-bending tracks combining to create another album ready-made for summer listening.
Don't miss your chance to be a part of the music video, and to see L.A.B. in an intimate setting!
Please note, by purchasing a ticket to this event, you are authorising yourself to be filmed for the purposes of a music video for L.A.B., and are consenting to your likeness being used for promotional purposes. Please contact loop@loop.co.nz with any questions regarding this or for more information.