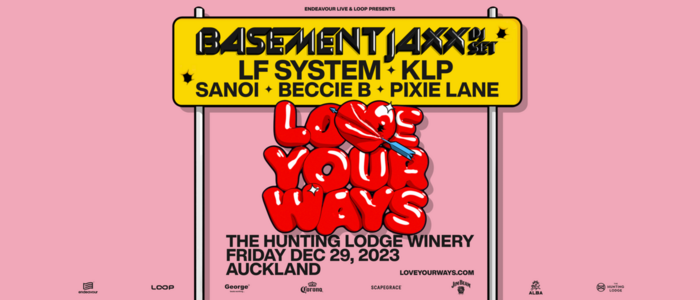 Love Your Ways 2023
When & Where
29 Dec 2023, The Hunting Lodge, 307 Waikoukou Valley Road, Waimauku
EARLY BIRDS SOLD OUT. ON SALE HERE
Basement Jaxx (DJ Set) & Scottish producers LF System are headling Auckland's newest boutique music festival - Love Your Ways ❤️‍🩹 🎈 Joining them is KLP, Sanoi, Pixie Lane and Beccie B for a fun loving day in the sun.
Aucklanders hanging around the city of sails for the New Year period no longer have to miss out on the festival fun, with UK big beat kings BASEMENT JAXX & Scottish heavyweights LF SYSTEM set to headline the new LOVE YOUR WAYS Festival at the stunning Hunting Lodge.
Kicking off early afternoon, the one day boogie also features Australian house DJ KLP, NZ producer SANOI, plus locals BECCIE B and PIXIE LANE, who will all be bringing their loving ways to the one day dance off!
LOVE YOUR WAYS will take place at the beautiful Hunting Lodge Winery - just 30 minutes from the Auckland CBD and Takapuna. The Hunting Lodge is known for their award-winning wine and outstanding hospitality. Boasting a natural amphitheater, the Hunting Lodge will be serving up the goodness on December 29.
BASEMENT JAXX - Widely respected as one of the UK's most legendary house and big beat kings, BASEMENT JAXX have been crowd favourites around the world for close to 15 years. The hitmakers behind 'Romeo' and 'Where's Your Head At' are no strangers to NZ, recently touring NZ earlier this year including a sold out performance at Auckland's Town Hall. With wine in hand, come dance to one of the world's best while watching the sun go down at one of Auckland's most stunning venues.
LF SYSTEM are the Scottish DJs taking the world by storm after the epic success of their single "Afraid To Feel". West Lothian duo Conor Larkman & Sean Finnigan have recently joined the Ministry of Sound label and are going from strength to strength. Larkman and Finnigan have plenty of reasons to be excited. Only a few years into making music and DJing together, they've got a UK Number 1, millions of plays worldwide, and a growing international audience of fans. Their warm and humble Scottish attitude keeps them grounded, but if the past few months are anything to go by, they'll be smiling for a long time to come.
KLP is one of Australia's go-tos for big house music energy and is guaranteed to deliver good vibes and sweaty dance floors wherever she takes to the stage. Multiple ARIA Award nominations, platinum records, one of Australia's most in-demand songwriters and vocalists, there's not much Sydney-based DJ and producer KLP (Kristy Lee Peters) can't do. With a plethora of new music in the pipeline, this year sees KLP releasing music with the teams working together at Medium Rare and Warner.
SANOI aka Jonas Fisher is a producer, DJ and a key member in the electronic/dance music scene in Aotearoa. He has graced the stages of many of NZ's most-loved festivals & clubs where his deeply danceable DJ sets see him move seamlessly across warm, melodic, groove-driven techno and beyond. November will see the release of his much-anticipated new album, which he'll be showcasing at LOVE YOUR WAYS.
Local support acts include BECCIE B & PIXIE LANE, with an array of top Auckland food trucks on hand to feed the dance floor antics. Presented by Endevour Live, Loop and The Hunting Lodge with thanks to Corona, Jim Beam, Scapegrace, Alba and George FM. Enjoy the best of the west, while dancing the night away to some of the world's best electronic dance acts.
BUSES - Return bus tickets from Auckland CBD & Takapuna are available for purchase.

CAR-PARKING - Event car parking will be available. Bookings are essential.
VIP - includes VIP ticket, Priority Entry, Private Viewing Area, Access to the Historic Hunting Lodge Villa, Private Bar & VIP Toilets. Carparking or bus tickets still required.

R18 - People under the age of 18 can enter with a parent or legal guardian (ticket required).
LOVE YOUR WAYS
Dec 29th, 2023
The Hunting Lodge, Waimauku, Auckland

EARLY BIRDS SOLD OUT. ON SALE HERE