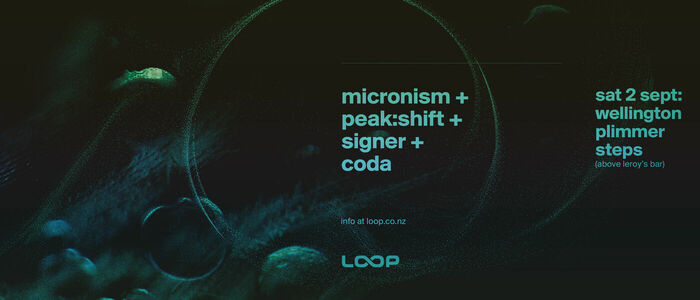 micronism + peak:shift + signer + coda
When & Where
2 Sep 2017, 9pm, 2 Plimmer Steps, Wellington
in celebration of the re-release of the "techno masterpiece" that is inside a quiet mind, micronism aka denver mccarthy will play wellington's new premiere night club plimmer steps.
denver will be joined by nuture recordings co-founder and deep-tech god peak:shift aka simon flower, involve records founder and man of many pseudonyms signer aka bevan smith, and one of NZ's founding electronic DJ's coda aka leon baldock.
micronism +
peak:shift +
signer +
coda +
(mt)
this show represents not only micronism's return to new zealand, but also his first live show in close to 20 years.
ALL LINKS TO STREAM/PURCHASE THE ALBUM
showcasing tracks from inside a quiet mind, a previous life as mechanism, and a treasure trove of unreleased gems, this show will see micronism's influence on the electronic scene return to a live setting.
" inside a quiet mind remains a cultural taonga, a musical time capsule that sends the listener hurtling straight back to the earliest flowerings of the New Zealand rave scene," - Sunday Star Times
"A techno masterpiece," - Radio New Zealand