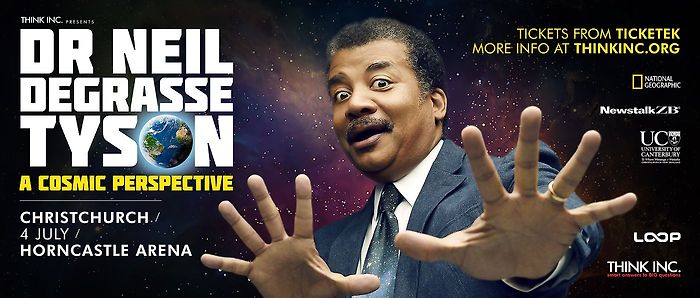 Neil deGrasse Tyson: A Cosmic Perspective - Christchurch
When & Where
4 Jul 2017, Horncastle Arena - Theatre Mode, Christchurch
Neil deGrasse Tyson: A Cosmic Perspective
Tuesday July 4, Horncastle Arena – Theatre Mode, Christchurch
Tickets on sale NOW from Ticketek
Think Inc., with support from Loop, National Geographic, Newstalk ZB, and the University of Canterbury, are supremely excited to announce for the first time in New Zealand, Dr Neil deGrasse Tyson!
A Cosmic Perspective will see the most famous face in modern science perform two shows across New Zealand to Auckland and Christchurch audiences. Both shows will feature a personal presentation by Dr Tyson himself, a fire-side chat with a local personality, and an audience Q&A session to finish.
Expert on star formation, exploding stars, dwarf galaxies, and the structure of our milky way, best-selling author, Emmy Award winner, recipient of nineteen honorary doctorates, and a man who was once named "Sexiest Astrophysicist Alive", Dr Neil deGrasse Tyson will guide Kiwi audiences on a trip across the cosmos, and help attempt to make sense of some of our biggest questions.
Think Inc. Present: Neil deGrasse Tyson: A Cosmic Perspective
Brought to you by National Geographic, Newstalk ZB, the University of Canterbury, and Loop
Christchurch: Tuesday July 4, Horncastle Arena
Doors 6.30pm / Show 7.30pm sharp
Tickets from Ticketek