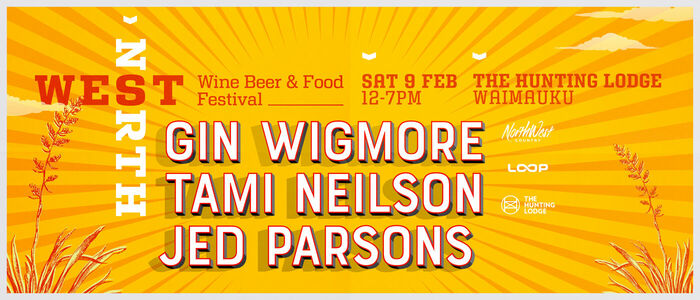 North West Wine, Beer & Food Festival 2019
When & Where
9 Feb 2019, 9 Feb 2019, 12pm, The Hunting Lodge, 307 Waikoukou Valley Rd, North West Auckland
NORTH WEST WINE, BEER & FOOD FESTIVAL 2019
GIN WIGMORE, TAMI NEILSON, JED PARSONS

North West Wine, Beer & Food Festival is set to return to the stunning surrounds of The Hunting Lodge on Saturday 9 February, showcasing the finest offerings by local vineyards, breweries and restaurants, and the festival's strongest music line-up yet - Gin Wigmore, Tami Neilson and Jed Parsons.
12pm - GATES OPEN
1.55pm - Nick Brightwell
2.45pm - Jed Parsons
4.00pm - Tami Neilson
5.20pm - Gin Wigmore
7pm - SHOW ENDS
AUCKLAND CITY BUS INFO:
Auckland City Buses will leave from 34 Sale St, opposite Sweatshop Bar & Kitchen at 12pm. Buses will return after the event at 7pm to the same location.
MURIWAI BUS INFO:
Muriwai Bus will leave from Sand Dunz Cafe, 455 Motutara Rd at 12pm, and return after the event.
RIVERHEAD/KUMEU/HELENSVILLE BUS INFO:
12pm - Bus departs Kumeu Rugby Football Club, Alexandra St, Riverhead
12.20pm - Bus departs Kumeu New World, 110 Main Road
12.45pm - Bus departs Countdown Helensville, 43 Commercial Road
Buses will return after the event in the reverse order.
FOR ALL BUS ROUTES -
- NO PARKING is included with your bus ticket. All parking is done at the owner's discretion.
- Please arrive at bus stop at least 15 minutes prior to departure times above. The bus will leave the stop at the time stated & we would hate you to miss your ride to The Hunting Lodge.
- A Return Event Bus ticket will need to be presented by all patrons to gain entry to these buses.
- For all buses, any children who cannot sit comfortably on their parent's lap will require a bus ticket.
Just 30 minutes North West of Auckland, the beautiful Hunting Lodge will play host to this day long event, which will showcase the amazing wine, beer and food that is on offer in the region.
The music menu is paired with delicious local offerings from vineyards Coopers Creek, The Hunting Lodge, Kumeu River, Soljans Estate & West Brook Winery, and breweries Hallertau Brewery, Colab Brewing & Liberty Brewing Company and bespoke dishes from food vendors including The Riverhead & The Tasting Shed.
This show will see Los Angeles based alt-rock chanteuse Gin Wigmore live at home for the first time since 2015, with a set that's expected to feature music from break-out 2009 record Holy Smoke through to her stunning new release Ivory.
North West local Tami Neilson is a country music treasure with ever-increasing international acclaim. Fresh from a 15-date European tour, Neilson has just been nominated for Best Solo Artist and Album of the Year at the upcoming Vodafone New Zealand Music Awards for her outstanding 2018 release Sassafrass. Jed Parsons is an indie-pop star on the rise with his solo debut Midnight Feast garnering local and trans-Tasman attention.
The festival will again feature a kids zone, making it a truly family friendly event. Children under 15 are FREE when pre-registered with a parent or legal guardian.
Return bus tickets to the venue are available now, departing from Auckland City, Muriwai, Helensville, Kumeu & Riverhead. Free parking will also be available at The Hunting Lodge on the day.
A range of vendors will be selling food on the day, however attendees are welcome to bring a picnic. Please note, all liquids are prohibited from being brought into the venue. Free water will be available on site.
Rain date of Sunday February 10 if required. All ticket holders will be notified if rain date is required, and all tickets will remain valid. No refunds will be issued for non-attendance of rain date.
Set in the picturesque surrounds of the The Hunting Lodge Wine Estate – just 30 minutes northwest of Auckland City, the North West Wine, Beer & Food Festival is the perfect summer celebration.
Thanks to North West Country & LOOP.