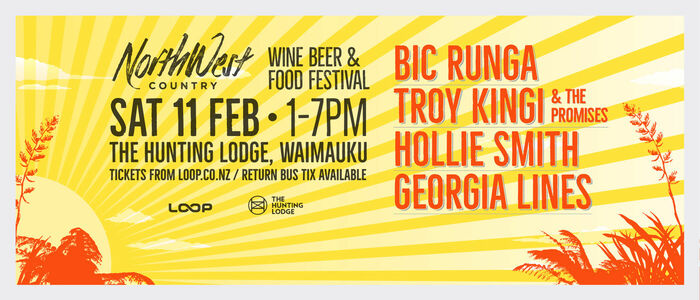 North West Wine, Beer & Food Festival 2023
When & Where
11 Feb 2023, 1pm, The Hunting Lodge, 307 Waikoukou Valley Road, Waimauku
NORTH WEST WINE, BEER & FOOD FESTIVAL 2023 w/
BIC RUNGA, TROY KINGI & THE PROMISES,
HOLLIE SMITH & GEORGIA LINES
TICKETS STILL AVAILABLE REMAIN
1pm - Gates Open
2pm - Nick Brightwell
2.30pm - Georgia Lines
3.20pm - Hollie Smith
4.30pm - Troy Kingi & The Promises
5.50pm - Bic Runga
7pm - Show Ends
BUSES -
Please note, if you are wanting to add on a bus ticket, you can do so from this page - https://loop.flicket.co.nz/events/631f941c-c4e2-4acc-b8e2-55029bbf1f1a/reservation. There is no bus entry without a ticket.
AUCKLAND CITY BUS INFO:
Auckland City Buses will leave from 34 Sale St, opposite Sweatshop Bar & Kitchen at 1pm. Buses will return after the event at 7pm to the same location.
MURIWAI BUS INFO:
Muriwai Bus will leave from Sand Dunz Cafe, 455 Motutara Rd at 1pm, and return after the event.
RIVERHEAD/KUMEU/HELENSVILLE BUS INFO:
1pm - Bus departs Kumeu Rugby Club, Alexandra St, Riverhead
1.20pm - Bus departs Kumeu New World, 110 Main Road
1.45pm - Bus departs Countdown Helensville, 43 Commercial Road
Buses will return after the event in the reverse order.
FOR ALL BUS ROUTES -
- NO PARKING is included with your bus ticket. All parking is done at the owner's discretion.
- Please arrive at bus stop at least 15 minutes prior to departure times above. The bus will leave the stop at the time stated & we would hate you to miss your ride.
- A Return Event Bus ticket will need to be presented by all patrons to gain entry to these buses.
- For all buses, any children who cannot sit comfortably on their parent's lap will require a bus ticket.
========
FOOD & DRINK
Local goodness from Coopers Creek, The Hunting Lodge, Kumeu River, Soljans Estate Winery, West Brook Winery & Mama's Brew Shop, and breweries Hallertau Brewery & Liberty Brewing Company. Plus bespoke food from Good From Scratch, Hallertau, The Hunting Lodge & Morepork BBQ.
========
WHAT YOU CAN BRING
Cash or card (pay-wave will be operational, however credit cards will incur a 5% service charge). A range of vendors will be selling food on the day however; attendees are welcome to bring a picnic. Please note, all liquids are prohibited from being brought into the venue. Free water will be available on site. It is ok to bring empty water bottles, umbrellas, tarps, blankets and chairs to the event. Umbrellas which do not prohibit the view of any other patrons are permitted. Any umbrellas deemed to be obstructing other patrons will be asked to be taken down.
========
SEARCH ON ENTRY
You and your possessions will be subject to a safety and security search upon entry. Items such as bad attitudes, tents, drugs, alcohol, selfie sticks, weapons cannot be brought into the festival. Confiscated items (i.e. alcohol, etc.) will not be returned, replaced or reimbursed.
========
WEATHER
Please note the concert will proceed rain or shine unless the promoter should decide it is unsafe to perform. Sunday February 12 is the rain date for this event, however the long range forecast is looking great, and we do not anticipate this will be necessary. However, in the case that it is required, it will be communicated via email to all ticket holders and via social media.
========
PARKING
Parking on site is available with a pre-purchased ticket, located across the road from The Hunting Lodge on Waikoukou Valley Road. If you have not yet purchased a parking ticket, you can do so from https://loop.flicket.co.nz/events/631f941c-c4e2-4acc-b8e2-55029bbf1f1a/reservation
Traffic management will be in place to direct you into the carpark. After the show, ALL vehicles must exit the carpark and drive towards Old North Road. Both lanes will be reopened when the pedestrian foot traffic is deemed safe.
========
DROP OFF / PICK UP ZONE / TAXIS
There is a designated drop off / pick up zone opposite the car park entry on Waikoukou Valley Road. Drop Off Zone address for taxis or mates is 315 Waikoukou Valley Road. Traffic management will be in place to direct you into the drop off zone. NO vehicles will be permitted to stop on Waikoukou Valley Road.
========
CHILDREN
There is a Children's Zone with face painting, a range of entertainment and non-alcoholic beverages. The children's zone is alcohol-free. Finally, the children's zone is not a creche or babysitting service and your children are legally your responsibility.
========
After a two-year hiatus, North West Wine, Beer & Food Festival is making its return for a day of music paired with some of the finest food and drink the North West region has to offer this February 11th at The Hunting Lodge.
The event will see The Hunting Lodge grounds transform into a boutique festival, showcasing the best of the North West Country flavours with offerings from local vineyards, breweries and restaurants, with a music line-up headed by award-winning artists Bic Runga, Troy Kingi & The Promises, Hollie Smith & Georgia Lines.
It is with much regret that Tami Neilson is currently not able to perform at the North West Wine, Beer & Food Festival for 2023 as originally announced.
Tami has been in hospital throughout the Christmas period, undergoing multiple operations, and she is ultimately unable to perform this show as planned. Our thoughts and kindness are with Tami and her family at this time, and we ask that fans give her the space and respect she deserves in this difficult time.
However, we are excited to announce Bic Runga will be taking Tami's place at The Hunting Lodge for her only Auckland show this summer.
Since the release of her first single 'Drive' in 1996 – Bic Runga (Ngāti Kahungunu, Rongomaiwahine) has been awarded almost every musical honour in New Zealand, including the prestigious APRA Silver Scroll songwriting award. Bic has won the most Tui Awards (New Zealand Music Awards) by any individual ever, 20. She has won Best Female Vocalist four times and Best Producer three times. The North West Wine, Beer & Food Festival will see her bringing her unmatched catalogue to the stage for a special performance not to be missed. Expect Bic to bring the hits with a full band!
The food and beverage offering is entirely local, featuring wineries Coopers Creek, The Hunting Lodge, Kumeu River, Soljans Estate Winery & Westbrook Winery, breweries Hallertau Brewery & Liberty Brewing Co, kombucha from Mama's Brew Shop and dishes from food vendors including Good From Scratch, Hallertau Brewery, The Hunting Lodge & Morepork BBQ.
The festival will have a plush VIP option including priority entry. The VIP zone will feature a separate bar, bathrooms and a private outdoor space. A Tasting Zone will also be showcasing the beverage on offer.
As with previous years, the festival will be hosting a kids zone, making it a truly family-friendly event with discounted tickets available for children under 18.
Tickets are on sale now, with return bus tickets from Auckland City, Muriwai, Helensville, Kumeu & Riverhead also available.
Set in the picturesque surrounds of the The Hunting Lodge Wine Estate – just 30 minutes northwest of Auckland city, the North West Wine, Beer & Food Festival is the perfect celebration of summer for foodies and music lovers alike.
Joining Bic on headlining duties is multi-award-winning, multi-genre musician Troy Kingi with his band The Promises. Kingi's passion for music has led to a successful and ever-expanding artistic career. A multi-time Aotearoa Music Award winner and winner of the APRA Silver Scroll, Kingi will bring his signature sound to the North West Fest, moving through funk, soul, folk & 80's-inspired jams throughout a set.
One of Aotearoa's most iconic Soul musicians and multi-award winner Hollie Smith will be making her North West Fest debut bringing her incredible live performance to the region. With a career spanning over 15 years, Smith has released numerous number one singles and albums and has collaborated with the likes of Don McGlashan on the hitmaking track 'Bathe In The River' which since its release has become one of the biggest and most iconic singles in New Zealand history, showcasing her breathtaking and soulful talent to the world.
Also making her North West Fest debut is Georgia Lines, who has just taken home her first Tūī Award this year for Breakthrough Artist at the Aotearoa Music Awards. Lines is a R&B-sprinkled pop artist who has enchanted audiences all across Aotearoa and beyond. Her recently released EP Human debuted at number one on the album charts with the lead single 'Faith' also reaching number one on the NZ charts. Lines is a shining Aotearoa talent who is continually making an impact and showing no signs of slowing down. We are also excited to have Nick Brightwell opening the festival, an acclaimed musician who is a three-time winner of the NZ Gold Guitars Award for Senior Instrumentalist.
NORTH WEST WINE, BEER & FOOD FESTIVAL 2023
Saturday February 11, 2023 - The Hunting Lodge, Waimauku
Bic Runga, Troy Kingi & The Promises, Hollie Smith, Georgia Lines & Nick Brightwell