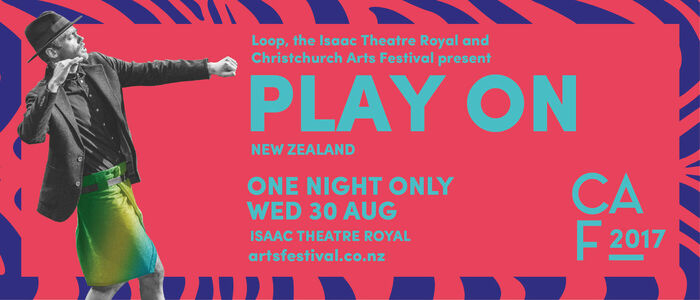 Play On - Christchurch Arts Festival
When & Where
30 Aug 2017, 7pm, Isaac Theatre Royal
A musical imagining of Shakespeare's great soliliquies.
The brainchild of Paul McLaney, along with actor/directors Ian Mune and Peter Elliot, Play On will combine the best in acting and music for an unforgettable experience.
Play On will feature Paul McLaney performing alongside Julia Deans, Maisey Rika, Ria Hall, Fran Kora, Laughton Kora, Mara TK, Andy Keegan (Drums), Richie Pickard (Bass) & string accompaniment from The Black Quartet - Jessica Hindin, Mahuia Bridgeman-Cooper & Rachel Wells.
In a world first, award-winning musician Paul McLaney has set a selection of Shakespeare's most well-loved soliloquies to music. Initially performed as a song cycle in a magical sell-out show at Auckland's Pop-up Globe Theatre, 2017 sees Play On coming to the rest of New Zealand with an all-star musical cast.
Along with performances by some of NZ's finest, the show also features one of Shakespeare's most famous pieces of work, Sonnet 18, translated into and performed entirely in Te Reo. Translated by Te Haumihiata Mason, Sonnet 18 will be performed by Maisey Rika and the entire cast.
Another goal of the show is to highlight and encourage the field of literacy, with McLaney interjecting to educate and contextualise aspects of the speech. The timing of the show is also important, as it is set against the social backdrop of more schools removing Shakespeare from their syllabus, citing it as too difficult to teach. The ambition of the show is to make the soliloquies more accessible to an audience who might ordinarily think Shakespeare is not for them.
Following on from the oringal show's success, McLaney and the cast undertook a series of recording sessions and the result is Play On, 11 tracks setting some of Shakespeare's most famous words to music for the first time. Celebrate the release of Play On - The Album.
ALL LINKS TO STREAM/PURCHASE THE ALBUM
"If music be the food of love, play on…"