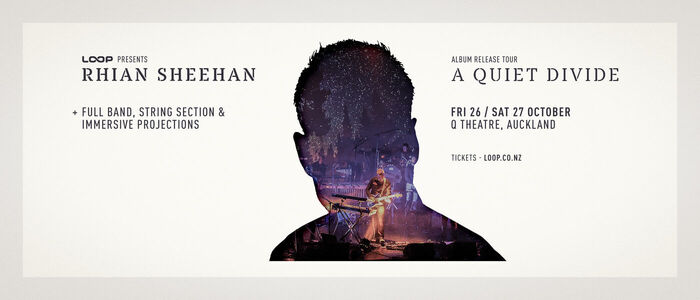 Rhian Sheehan - A Quiet Divide Live, Fri/Sat Show
When & Where
26 Oct 2018, Q Theatre, 305 Queen St, Auckland
BOTH SHOWS ON SALE NOW
A Quiet Divide released Friday October 5, 2018
Pre-Order Limited Edition 2 x 180 Gram White LP Here – https://bit.ly/2M3nrp4
Rhian Sheehan is set to return with his first album in five years, A Quiet Divide. To celebrate, he will be performing a special series of shows across New Zealand, transforming venues into spectacles of sound and light.
This cinematic experience will see Sheehan lead eight musicians plus a live string section to perform a truly sublime audio-visual show. Combining a dream-like montage of captivating live visuals with sound to turn Q Theatre into a world of breath-taking son et lumiere.
Each performance will see some of NZ's finest musicians combining with visual elements created by Weta Workshop, Perceptual Engineering and a collective of talented visual artists to create a richly layered live experience.
Sheehan's band features a selection of talented musicians including long-standing key collaborators Jeff Boyle (Jakob), Steve Bremner, Ed Zuccollo (Trinity Roots) and Raashi Malik, plus Marika Hodgson (Hollie Smith), Grant Myhill, and Anna Edgington, alongside a live string section.
Sheehan will showcase the brand new album A Quiet Divide, as well as previous work from acclaimed albums Standing In Silence and Stories From Elsewhere. Sheehan's live shows are a rare occasion, with this being the first Auckland performance since 2011.
"The concert is a truly "wish you were here" experience, where the audience is so mesmerised, you could hear a pin drop – before the bursts of applause that signals the spell has been broken momentarily." – Sunday Star Times
Acclaimed for both his original music and composition work, Sheehan's latest album is a sublime marriage of orchestral chamber music, cinematic guitar layers, and synth-based soundscapes. Fusing this sound with post-rock and intimate ambient/electronic moments, A Quiet Divide affirms Sheehan as NZ's foremost voice in the ambient/post-rock genre.
Loop & 95bFM Present:
Rhian Sheehan – A Quiet Divide Live
Friday 26 October – Q Theatre, Auckland
Tickets available 7am Thursday 9 August from Q Theatre