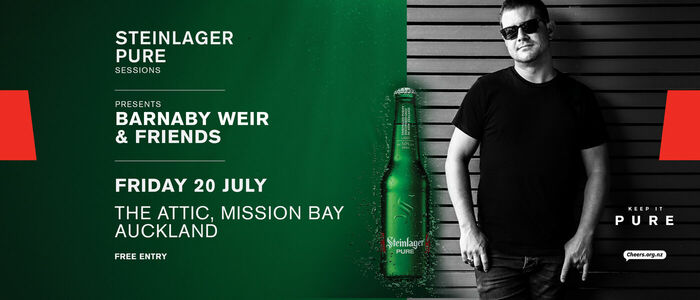 Steinlager Pure Sessions Presents Barnaby Weir & Friends
When & Where
20 Jul 2018, 8pm, The Attic, 55 Tamaki Drive, Mission Bay, Auckland
FREE SHOW - FIRST IN, FIRST SERVED
Friday July 20 – The Attic, Mission Bay, Auckland
Following on from a five show nationwide tour earlier in winter, Steinlager Pure are excited to announce an extra instalment of the Steinlager Pure Sessions featuring Barnaby Weir & Friends, live at The Attic in Auckland.
Performing alongside some of the country's finest musicians and his bandmates from The Black Seeds and Fly My Pretties, Barnaby Weir & Friends will be performing songs from their vast back catalogues of classics.
Fresh off a summer performing across the country supporting The Black Seeds' sixth album Fabric, this show will give audiences a chance to see Barnaby Weir performing in a stripped-back, intimate setting. For this one-off show, Barnaby will perform alongside Laughton Kora & Nigel Patterson.
This show is free entry and limited capacity, so first come first served! Presented by Steinlager Pure.
Full show info at http://steinlager.com/puresessions
Steinlager Pure Sessions Presents Barnaby Weir & Friends
Friday July 20 – The Attic, Mission Bay, Auckland