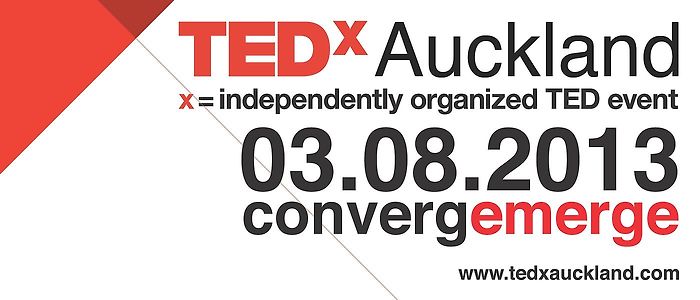 TEDx Auckland
When & Where
3 Aug 2013, Auckland
TEDxAuckland will take place on Saturday, 3 August in the Aotea Centre. A wide range of speakers are set to take part in the full day event.
The final group of speakers for this year's event include celebrated musician and distinguished authority on Maori instruments, Richard Nunns; Professor in Design at AUT and outspoken critic of dehumanised systems of education, Welby Ings; freelance filmmaker and creator of 3D time- lapses of New Zealand landscapes and starscapes, Joseph Michael; founder and chief of collaborative website Wiki New Zealand, Lillian Grace; leading laser cosmetic dentist, international educator and bestselling author, Dr. Hisham Abdalla; and New York-based corporate communications chairman and New Zealand storyteller, Brian Sweeney.
Other speakers taking the stage at TEDxAuckland are Mayor of Otorohanga and motorcycle enthusiast Dale Williams; iconic New Zealand furniture and lighting designer,David Trubridge; poet, teaching artist and creative entrepreneur, Grace Taylor; former New Zealand Prime Minister and Administrator of the UNDP, Helen Clark; founder of depression charity Live More Awesome and author of A Bit Mental, Jimi Hunt; sustainability specialist and co-founder of ecostore, Malcolm Rands; local food advocate, social entrepreneur and founder of Ooooby, Pete Russell; highly awarded professor and director of the Centre for Brain Research at the University of Auckland,Richard Faull; chef and award-winning author Robert Oliver; award-winning documentary director of Finding Mercy, Robyn Paterson; and educator, entrepreneur and founder of the Hika programs Sophie Tauwehe Tamati.
Tickets: http://www.the-edge.co.nz/Event-Pages/T/TEDx