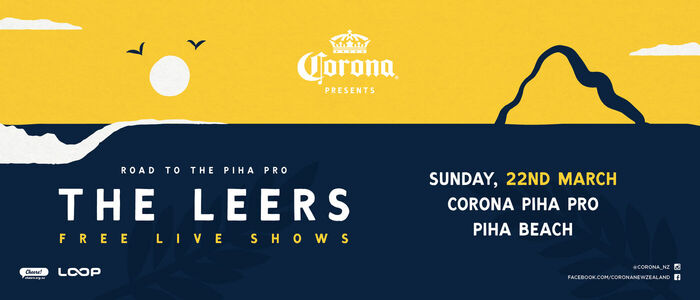 The Leers, Piha Beach POSTPONED
When & Where
22 Mar 2020, 3pm, Piha Beach
Due to the rapidly evolving situation with COVID-19 and out of caution for the safety of athletes, fans, and staff, the World Surf League (WSL) has decided to postpone the Corona Piha Pro CS event until further notice.
----------
Corona NZ & Loop are stoked to announce The Road To The Pro, a series of shows leading into the New Zealand-debut of the World Surf League Challenger Series, culminating with The Leers playing on the final day of the Challenger Series at Piha Beach.
The Corona Piha Pro runs from Monday March 16 to Sunday March 22. Due to the limited amount of parking space within Piha, and the challenging access via Piha Road, fans will only be able to enter Piha during the Corona Piha Pro by purchasing one of the following for each day:
- A Vehicle Pass with designated parking in Piha – NOW SOLD OUT FOR SATURDAY & SUNDAY.
- Shuttle Buses departing Parrs Park in Glen Eden - return tickets are $10 per person, and tickets must be booked for specific shuttle times.
Passes and tickets can be purchased from https://www.iticket.co.nz/events/2020/mar/piha-pro?atc=feature_Corona_Piha_Pro
If purchasing a Shuttle Bus ticket, people can either drive and use the Park-and-Ride at Parrs Park, or use public transport – Sunnyvale is the closest train station to Parrs Park.
Piha residents will be given Resident Vehicle Access Passes and Guest Passes to help ensure smooth access.
Any vehicles without the required access will not be permitted entry to Piha Beach during the Corona Piha Pro.
The Road To The Pro serves as a lead-in to the New Zealand-debut of the World Surf League Challenger Series, taking place in March in one of NZ's most iconic locations, Piha Beach. The tour will hit up summer hotspots of Mount Maunganui and Mangawhai, before setting up shop in Auckland ahead of the Challenger Series. Sunday 22 March will see not only the final of the Challenger Series, but a performance from The Leers at Piha Beach to close out The Pro.
A four-piece exploring the depths of indie, rock & psychedelia, The Leers have become a staple of the NZ music scene. Raised by the beach and the early rumbles of acts like Arctic Monkeys, Foals & Radiohead, their musical journey has seen them produce a number of acclaimed releases, including the album Are You Curious?
Their most recent single, 'Far Away', has seen them reach the NZ charts for the first time, with much of December spent in Los Angeles recording new material. The Road To The Pro will see the first opportunity for fans to catch the fruits of their sun-soaked labours in person.
Presented by Corona and LOOP.