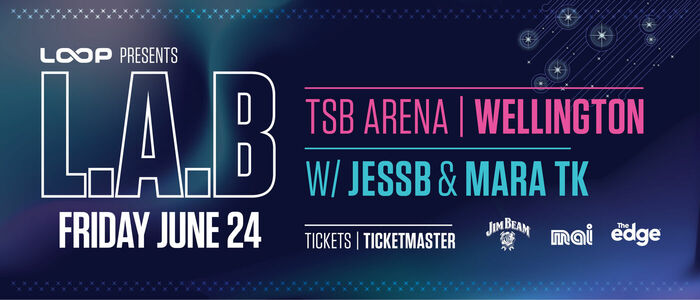 Wellington - TSB Arena
When & Where
24 Jun 2022, 6.00pm, TSB Arena, Queens Wharf, Wellington
TICKETS ON SALE NOW
MATARIKI WEEKEND 2022 / LONG WEEKEND
Fri June 24 - TSB Arena, Wellington w/ JessB & Mara TK
Doors 6pm, Ends 11pm

7.15pm - Matariki Fireworks Display, Waterfront
7.30pm - Mara TK
8.15pm - JessB
9.15pm - L.A.B
Fresh from a massive tour of Australia, L.A.B return to Pōneke, Wellington on Friday June 24, marking New Zealand's first official Matariki public holiday.
This will be L.A.B's first show in NZ without any event restrictions since the release of their new album, L.A.B V.
Tickets on sale from Ticketmaster, with accessible tickets available for purchase.
The line up reflects a diverse cross section of top talent from across Aotearoa, with the queen of hype JessB taking to the stage with her energetic live show, and Mara TK presenting his stunning new album Bad Meditation alongside his full band.
After their last Wellington shows sold out in 2021, this show is expected to do the same, especially with this show taking place over the first Matariki long weekend.
Fast becoming a winter tradition, these performances will see L.A.B's stadium-sized show rolled into a more intimate venue, while maintaining the energy that has seen them become one of NZ's best live acts.
Presented by Loop, thanks to Jim Beam, Mai FM & The Edge.
Key T's & C's: At the time of on sale, this event has no COVID-related entry or capacity restrictions. This event is an all ages event, however we recommend anyone under the age of 16 is accompanied by a parent / legal guardian. If the event is unable to be rescheduled and is cancelled due to COVID-19, refunds will be provided; however, a promoter admin fee of $10.00 per ticket plus the ticketing company transaction fee of $5.00 per account will be deducted from all refunds processed.
Full T's & C's can be found here: https://bit.ly/3N3m3Sl