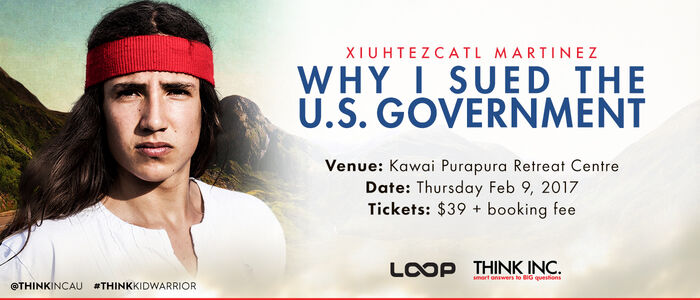 Xiuhtezcatl Martinez: Why I Sued The U.S. Government
When & Where
9 Feb 2017, 6pm, Kawai Purapura Retreat Centre, Albany
"The face of America's next-generation environmental movement" – Rolling Stone
"A vital voice for our time" – Julia Butterfly Hill
LOOP & THINK INC PRESENT:
XIUHTEZCATL MARTINEZ: Why I Sued The U.S. Government
2015's recipient of the Peace First Prize and a powerful voice on the front lines of a global youth-led environmental movement, Xiuhtezcatl Martinez is coming to New Zealand to spread his messages of climate activism and why he sued the U.S. government for the first time in February. Through public speaking and hip-hop, Xiuhtezcatl is spreading his message and shifting human consciousness.
Displaying a wisdom far beyond his years, Xiuhtezcatl Martinez has been speaking on behalf of the planet since the age of six. Today, still just a teenager, his extraordinary eloquence has moved audiences which include world leaders, Hollywood celebrities and other impassioned young people across continents who have joined his Earth Guardians activism movement.
Since beginning speaking, Xiuhtezcatl has spoken all over the world from the Rio+20 United Nations Summit in Rio de Janeiro, to addressing the General Assembly of the United Nations in New York.
Xiuhtezcatl made headlines around the world when he stood before the UN Earth Summit in 2015. Opening his statement in the native Aztec tongue Nahuatl, he went on to stress the immediacy of climate change, its impact as an issue of human rights, and to lambast politicians for over 20 years of inaction. "We have to remember, we are all indigenous to this earth and that we are all connected," he urged the delegates. "We are being called upon to use our courage, our innovation, our creativity and our passion to bring forth a new world."
While his youth might be viewed as some as a handicap, Xiuhtezcatl embraces it as a weapon in his arsenal. "As young people we have the advantage that the world will listen to us more so than adults because we're vulnerable and we're innocent." His activism also draws on his Aztec heritage, which taught him to give back to the earth through music and dance, and to see the connections between the living planet and the daily decisions that we make.
February will see Xiuhtezcatl Martinez bring his message to New Zealand for the first time to inspire audiences into action to protect the Earth.
Xiuhtezcatl Martinez: Why I Sued The U.S. Government
Thursday February 9, 2016
Kawai Purapura Retreat Centre, Albany
Tickets available from Eventfinda