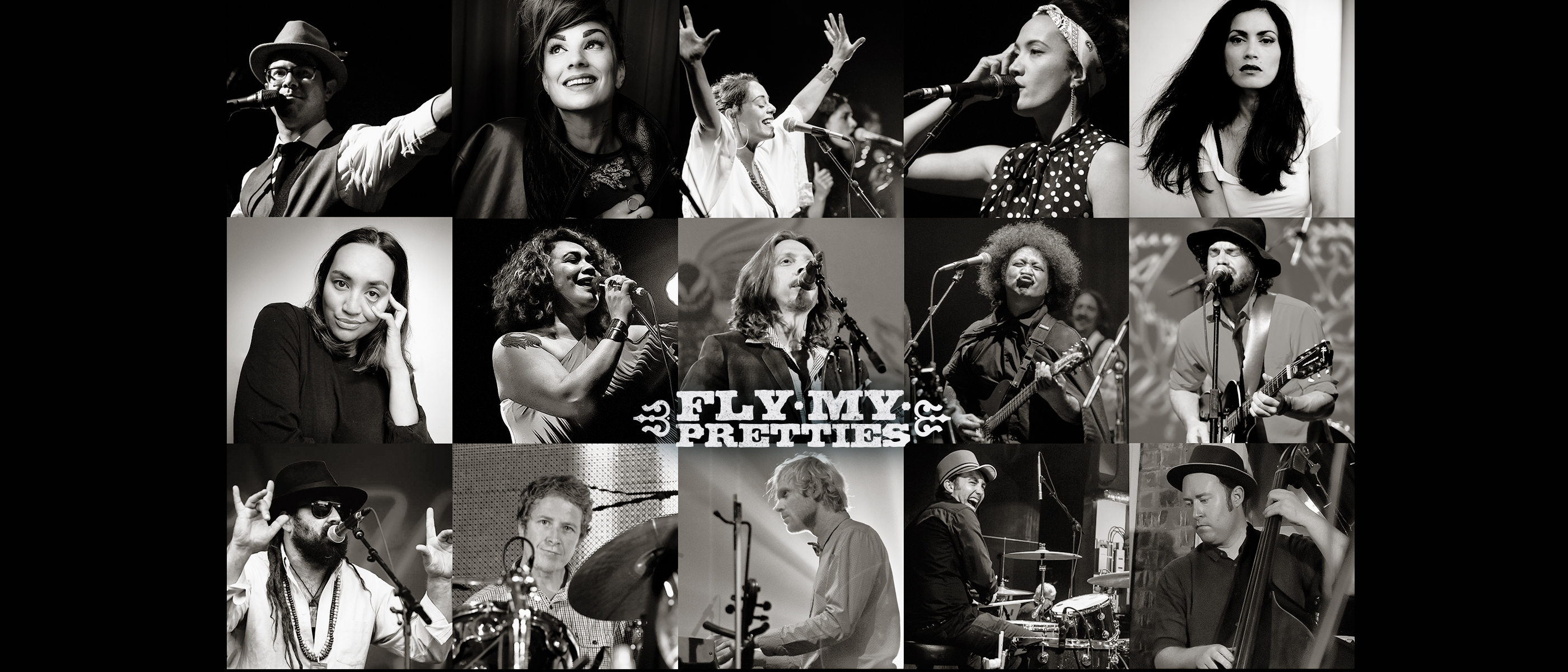 Saturday November 14 - Auckland Town Hall
Friday November 27 - Wellington Opera House *SOLD OUT*
Saturday December 5 - Isaac Theatre Royal, Christchurch
Fly My Pretties are beyond excited to announce the incredible cast of artists who will be appearing at their series of special headline-shows in late 2020, celebrating the release of The Studio Recordings Part One & Two.
FULL CAST: Barnaby Weir, A Girl Named Mo, Anna Coddington, Bailey Wiley, Hollie Smith, LA Mitchell, Lisa Tomlins, Ria Hall, Aaron Stewart, Age Pryor, Iraia Whakamoe, James Coyle, Ryan Prebble (The Nudge), Jarney Murphy, Nigel Patterson (The Black Seeds) & Laughton Kora
This core cast will be accompanied by additional special guests in each city, making each show a unique experience featuring the largest casts in FMP history.
The Wellington show is already sold out, with extremely limited tickets remaining in both Auckland & Christchurch.
These shows will celebrate the release of the first studio recordings in Fly My Pretties history, with Parts One & Two both out now. All shows will see songs performed from the new albums, alongside some special surprises in front of an enhanced visual backdrop.
Since their inception, Fly My Pretties has grown to become a local legend of music that continues to reach people all over the world. An institution of the New Zealand music scene, Fly My Pretties are New Zealand's favourite live collaborative group starring a selection of the country's finest contemporary musicians & visual artists.
2019 saw Fly My Pretties step into the studio for the first time, capturing some of their most-loved tracks as they have never been heard or performed before. The Studio Recordings Part One & Two capture the magic of these recordings, showing a cross section of the unique sound of Fly My Pretties, travelling through folk, blues, dub and soul. Late-2020 sees a return to some of NZ's most beautiful venues to perform tracks from both albums & the back catalogue.
All shows presented by Fortune Favours, with thanks to Loop, Yealands Wines, Havana Coffee Works, Scapegrace Gin & Radio Hauraki.