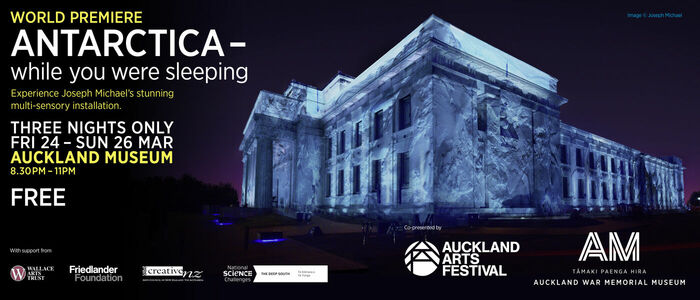 ANTARCTICA – while you were sleeping
When & Where
24 – 26 March 2017, Auckland War Memorial Museum, Auckland
In ANTARCTICA visual artist Joseph Michael in collaboration with composer Rhian Sheehan has created a cinematic spectacle like no other – a one-to-one scale of an Antarctic iceberg.
For three nights, as the sun sets over Auckland War Memorial Museum, the Museum becomes the canvas for the projection of a majestic Antarctic iceberg. You'll hear ice crack and drip and see water fall as you circumnavigate the Museum and take in images of the rare and sublime world of icebergs on all walls of our city's most mighty and iconic building.
The show runs on a 45minute loop from 8.30pm until 11.00pm on Friday 24 March, Saturday 25 March and Sunday 26 March.
ANTARCTICA is an installation celebrating the pristine scenery of the awe-inspiring ice continent.