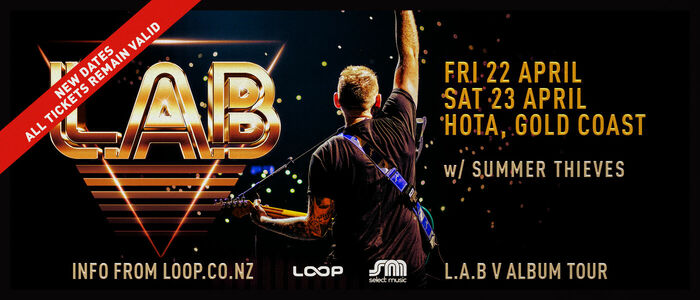 Gold Coast - HOTA Show 1
When & Where
22 Apr 2022, 8pm, 135 Bundall Rd, Surfers Paradise
NEW DATE / ALL TICKETS REMAIN VALID
GOLD COAST SHOW TIMINGS
6:00 / Doors
7:15 / Summer Thieves
8:30 / L.A.B
10:00 / Ends
Limited tickets remain - purchase HERE
Loop wishes to advise that due to the ongoing COVID-19 pandemic, L.A.B are rescheduling their Australian tour until April 2022. The new Gold Coast date is Friday 22 April at the HOTA, Home of The Arts.
All tickets originally purchased for HOTA on Friday Oct 22, 2021 are now valid for HOTA Friday 22 April, 2022. All tickets remain valid, simply turn up on the night with your current tickets as all issued tickets remain valid.
Confirmation emails have been sent to all purchasers. If you are unable to make the new date - please see the email (sent September 16) from the ticketing company which includes instructions on how to refund.
You will be issued ticket(s) when the print suppression is lifted, and this show remains sold out.
LOOP and Select Music are proud to present L.A.B live at HOTA, Home of the Arts for their first Gold Coast show since the release of their new album L.A.B V.
This show will feature Summer Thieves in support. Getting set to release a new album in 2021 and known for their ability to get the party going, the band will take to the opening duties for L.A.B for their Queensland shows.
Also playing in Brisbane & Fremantle, full tour info HERE.
Listen to L.A.B V - https://ffm.to/lab-v

GOLD COAST / COVID-19 ENTRY POLICY
- In accordance with Government regulations attendee's 16 years old and above must be fully vaccinated or have a valid exemption.
- Individuals under 16 years old do not need to be vaccinated.
- The venue may sight each attendee's proof of vaccination in the Check in Qld app or other eligible proof of COVID-19 vaccination.*
- Face coverings are encouraged but not mandatory
- All attendees agree to comply with Government requirements.
- No refunds will be given for attendees that do not comply with Government requirements.
- Visit the venue website for more info and full terms of entry: https://hota.com.au/faqs/queenslands-covid-vaccine-plan-visitors-audiences-faqs
*Other eligible proof of COVID-19 vaccination:
- COVID-19 digital certificate saved to a smartphone wallet
- printed copy of COVID-19 digital certificate
- printed copy of immunisation history statement