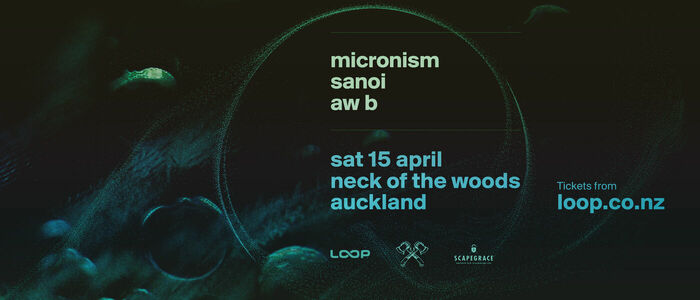 micronism + sanoi + aw b
When & Where
15 Apr 2023, 10pm, Neck Of The Woods, 155b Karangahape Rd, Auckland
TICKETS ON SALE NOW, EARLYBIRDS SOLD OUT
micronism will perform his first Auckland headline show in over 20 years on April 15 at Neck Of The Woods, to celebrate his iconic album inside a quiet mind receiving the Independent Music NZ Classic Record award at the Taite Music Prize 2023.
Presented at the Taite Music Prize Award evening on April 18, inside a quiet mind will be honoured for its place within NZ music history, joining previous recipients such as The Headless Chickens, Patea Maori Club, Upper Hutt Posse and The Clean.
"This acknowledgement of my small contribution to NZ music is wildly misplaced - so it is received with great shock and even greater humility and gratitude. Looking forward to trying to fire up the machines once again, to journey into the land of electronica, forgive me if I take a few wrong turns...it has been a while....." - Denver McCarthy aka micronism
The show at Neck Of The Woods will see micronism showcase tracks from his only release, inside a quiet mind, alongside a treasure trove of unreleased gems, displaying his influence on the electronic scene in a live setting. This will be micronism's first Auckland headline show in well over 20 years, and will not be repeated anytime soon.
On support will be recent Loop signing Sanoi, who has had a bumper season of festival shows off the back of a string of recent singles as he approaches the release of his new album. Sanoi comes armed with a new album set for release later in 2023, plus a micronism remix of his track 'Zero Gravity'. His first release since the re-issue of inside a quiet mind, micronism's remix digs deeper on his take, pushing the sound of Sanoi's original further into his trademark techno-inspired sound.
Auckland-based DJ Aw B will be rounding out the lineup, perfectly showcasing the evolution of techno within NZ.
inside a quiet mind will also be repressed on limited edition double vinyl to celebrate the Award, and is available for pre-order now. Unavailable since its original pressing in 2017, fans are recommended to get in quick to not miss out again.
"inside a quiet mind remains a cultural taonga, a musical time capsule that sends the listener hurtling straight back to the earliest flowerings of the NZ rave scene," - Sunday Star Times
"A techno masterpiece," - Radio New Zealand
micronism Auckland Headline Show, thanks to Scapegrace
April 15 - Neck Of The Woods, Auckland w/ Sanoi & Aw B
Stream / download inside a quiet mind HERE
Pre Order Limited Edition Vinyl Repress HERE
Check micronims's remix of Sanoi HERE
Check Sanoi's latest single HERE