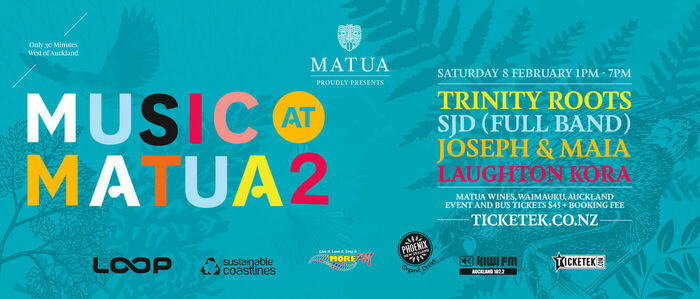 Music at Matua 2
When & Where
8 Feb 2014, West Auckland
TrinityRoots, SJD (full live band), Joseph & Maia, Laughton Kora (solo).
Limited to 800 tickets.
Music at Matua will see a highly anticipated appearance by headliners, TrinityRoots who bring with them unreleased material from their forthcoming album to perform at their only Auckland Summer 2014 show.
The day will also include a set from this year's Taite Music Prize winner, SJD (full band performance); while up-and-coming folk-pop duo, Joseph & Maia will be warming up the stage. Capping off the lineup will be former Kora frontman, Laughton Kora who will deliver a not-to-be-missed solo performance.
To kick off the day, Sustainable Coastlines will be running a clean-up of Muriwai Beach on the morning of the event. Cleanup info will be released closer to the event.
Children under 13 years of age are free when pre-registered and accompanied by legal guardian.
A range of vendors will be selling food on the day however; attendees are welcome to bring a picnic. Please note, liquids are prohibited from being brought into the venue.
FREE DOWNLOAD of songs from the 2014 artists Soundcloud HERE.
RUNNING TIMES:
Gates Open: 1pm
Live Music: 2pm
Approx Finish Time: 7pm
BUSES & PARKING:
Free parking will be available on site at Matua Wines.
For those travelling from Auckland City, event Buses will be running from the city to Matua Wines on the day. Tickets are $20 from Ticketek.
Passengers will be picked up from the Tournament Carpark located at 34 Sale St, Auckland (opposite Sale St bar) and departing from the carpark to Matua Wines at 12:30pm sharp.
Following Music at Matua, buses will be departing the venue at 7:30pm to return passengers to the Tournament Carpark by approximately 8:00pm.
Event goers are welcome to drive to, and use the Tournament carpark but please note, Tournament parking rates apply.
ABOUT THE BANDS:
TrinityRoots:
A boil-up of ingredients that seems to embody the very essence of our home, land and sea, the legendary trio, TrinityRoots is one of New Zealand's most iconic roots acts. Reforming in 2010, the genre-bending group returned to the stage and once again captured audiences with their big-hearted, hypnotic live show. Recently, the band's lineup was reinvigorated as Warren Maxwell and Rio Hunuki-Hemopo welcomed new cornerstone drummer/vocalist Ben Lemi. Revitalised, the band have just penned new material and are set to record their long-awaited third album, due for release in mid-2014.
SJD:
SJD is the pseudonym of both Sean James Donnelly the solo artist and his live band. A critically-acclaimed musician, SJD has been nominated and received several awards for both his own musical projects and others' whose albums he has contributed to or produced. His fifth release, Electric Wasteland (2012) was widely praised, garnering almost unanimous 5/5 star reviews and won the hotly contested 2013 Taite Prize.
Joseph & Maia:
Hailing from Tauranga, the young up-and-coming singer-songwriter duo, made up of Joseph Thompson and Maia Potier, began recording music together just recently, in April 2012. Despite the short time span performing together, the harmonious duo is becoming quickly known for a sound best described as classic folk and country with an alternative edge. This signature style has seen them release their first five-track EP, Roll Up Your Sleeves (April 2013), which Debuted at No.30 on the Official NZ Charts. Having recently returned from a modest tour of Europe, the pair is now gathering new inspiration and penning new material before they head into the studio to record their first full-length album, set for release in 2014.
Laughton Kora:
Laughton Kora is the former front man, lead singer and guitarist of well-known juggernaut, Kora. Known for their huge live presence, Kora has spawned their own unique sound of funk-meets-roots-meets-rock and broke the mould with their infamous performances. Since forming, Kora have picked up numerous accolades including a double platinum selling album, a Vodafone NZ Music Award and performances at top festivals. Outside of Kora, Laughton has lent his infamous and instantly recognisable vocals to a range of other bands and projects including Fly My Pretties and Eru Dangerspiel.