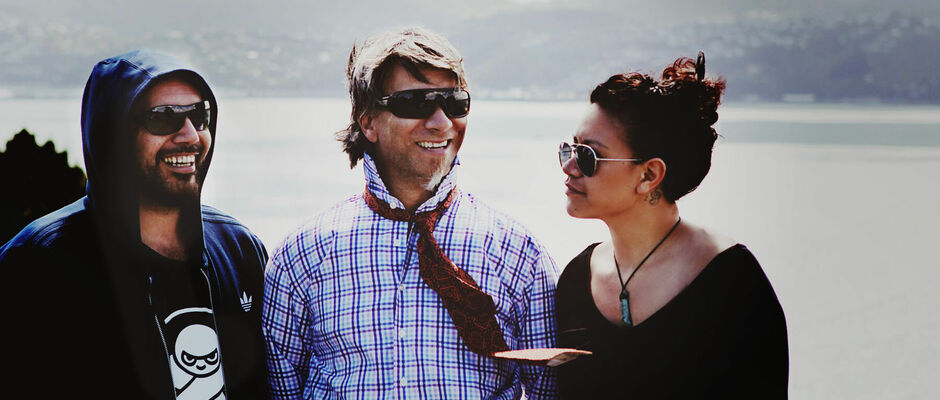 TrinityRoots
Bio
Loop first released TrinityRoots' debut EP in the year 2000 unofficially making it our first release ever! We have always continued to work with them and they have since featured on over a dozen Loop release projects and most recently at the Sounds On music festival.
From the tail of the fish to the tip, Aotearoa has been swept up in the music of TrinityRoots, a boil-­‐up of ingredients that seemed to embody the very essence of our home, land and sea, and serve as an invocation to that same environment. The influences that the group brought together joined the dots between head-­nodding reggae, slow-­burning funk and jazz to form an undeniably indigenous waiata, unconstrained by genre boxes.
Together, Warren Maxwell (lead vocals/guitars/keys), Rio Hunuki-­Hemopo (bass/vocals) and Riki Gooch (drums/vocals) took audiences to unchartered territory with every big-­hearted, hypnotic live show they performed over the seven years that marked the first phase of their career. An esteemed line-­up of guest musicians and vocalists augmented performances that could shape shift between gently undulating grooves, soul-­baring anthems, and full on psyche-­rock jams, but at the core was the dynamic of three players who seemed to operate on a level of musical telepathy.
Following on from their perfectly formed self-­titled EP in 2000, TrinityRoots expanded their palette of sounds on two long players, True (2002) and Home, Land and Sea (2004), releases that were rewarded with platinum sales, setting the stage for other home grown independent successes that followed. And then they left us in 2005 to pursue new projects, taking their individual energies to groups like Little Bushman, Fat Freddy's Drop, Breaks Co-­op and Eru Dangerspiel.
2010 saw a resurgence of TrinityRoots with the release of their Music Is Choice live CD and documentary DVD package. Videos and live recordings, including songs from their landmark Wellington Town Hall 'final' performance in February 2005, are accompanied by disarmingly honest interviews detailing the breakup of one of New Zealand's best-­loved bands, in their own words. This openness and honesty – musically and personally – illustrates exactly why Trinity are so special to so many people.
After a triumphant return to the live stage in October 2010 with sold-­out shows in Auckland, Wellington and Christchurch, an appearance at WOMAD NZ 2011, and their Australian live debut wowing audiences with a main stage performance at the prestigious Byron Bay Bluesfest, TrinityRoots looked to have embarked on a brand new phase of their musical relationship – until drummer Gooch ended his involvement in mid-­2011. Maxwell and Hunuki-­Hemopo were unbowed; and buoyed by the renewed energies flowing around TrinityRoots, recruited a new cornerstone, drummer/vocalist Jean Pompey.
Wellington based Pompey adds another dimension to Trinity, with her dexterous, powerful playing and deep connection with the bands history. "You can't help but feel uplifted when you listen to their music, that's partially why they have such great longevity. I really hope to honour that now that I am part of the TrinityRoots whanau ma."