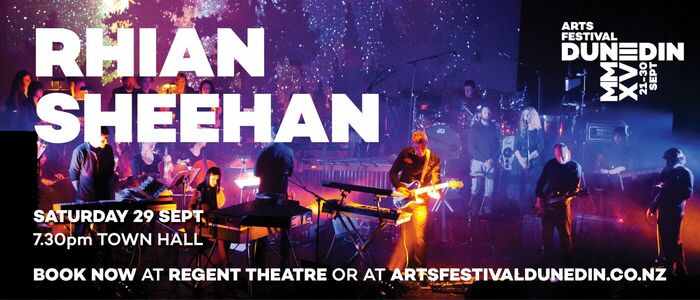 Rhian Sheehan - A Quiet Divide Live at the Arts Festival Dunedin
When & Where
29 Sep 2018, 7.30pm, Dunedin Town Hall
On the final Saturday of the Arts Festival Dunedin, Rhian Sheehan will transform the Dunedin Town into a huge sound and light venue. This performance will see Sheehan showcase his brand new album A Quiet Divide, as well as previous work from acclaimed albums Standing in Silence and Stories From Elsewhere.
Sheehan will lead eight musicians to perform a truly sublime and emotive immersive audio-visual show. This cinematic experience will also see an added rich layer of sound provided by members of the Dunedin Youth Orchestra, directed by Dunedin composer Anthony Ritchie.
This live show will see a dream-like montage of captivating live visuals, time-lapse, portraits, animations, landscapes and starscapes combining with sound to turn the Dunedin Town Hall into a world of breath taking son et lumiere.
October will see the release of Sheehan's first solo album in five years, A Quiet Divide, a sublime marriage of orchestral chamber music with textural cinematic guitar and synth soundscapes. To date, his albums have amassed over 30 million streams on Spotify alone, and have gained a solid following across the globe.
"The concert is a truly "wish you were here" experience, where the audience is so mesmerised, you could hear a pin drop – before the bursts of applause that signals the spell has been broken momentarily." – Sunday Star Times