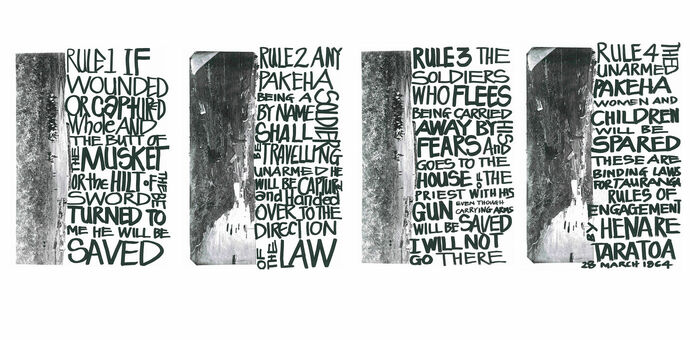 Rules Of Engagement: The Exhibition - Auckland
When & Where
3 – 30 November 2017, Lot23, Auckland
Art by Tracey Tawhiao, inspired by the debut album from Ria Hall – Rules Of Engagement.
AUCKLAND ALBUM RELEASE SHOW INFO HERE
"There is history in this country that has never seen the light of day. History that gives us hope and pays homage to our illustrious ancestry. This Exhibition and Ria Hall's Album are both creative ways of sharing this history with people who may never learn of it any other way. It's history that we are proud to share with you." - Tracey Tawhiao
OPENING FUNCTION: FRIDAY NOV 3 FROM 5PM to 9PM
OPEN FROM SAT 4 NOV - THUR 30 NOV
WEEKDAYS 8AM-6PM | SATURDAYS 11AM-2PM
LOT23, 23 MINNIE ST, EDEN TCE, AUCKLAND
To celebrate the release of her debut album Rules Of Engagement, Ria Hall has combined with Tracey Tawhiao for Rules Of Engagement: The Exhibition. Creating artwork inspired by the album and infused with Tawhiao's own experiences and style, the exhibition showcases two descendants of Tauranga Moana iwi who are strong Maori artists with defined creative voices.
A multi-skilled contemporary artist, Tawhiao is a writer, performance poet and filmmaker, who conveys the breadth of her experience and position as a Maori woman in a European-dominated society through her artwork. One-of-a-kind pieces of artwork from Tawhiao will be available for purchase throughout the exhibition.
Rules of Engagement was initially conceived in Wellington and completed in Hall's ancestral home of Tauranga, the album and exhibition's inspiration and concept stem from the New Zealand Wars of the 1800's, specifically 1864's Battle of Gate Pā (Pukehinahina).
The concept comes from a letter written from Henare Taratoa to Sir George Grey, outlining the manner in which the Battle of Gate Pā should ensue, and how both parties should conduct themselves during war. This code of conduct was known as the Rules of Engagement, and is where this project takes its name from.
Info on the Rules of Engagement album HERE.