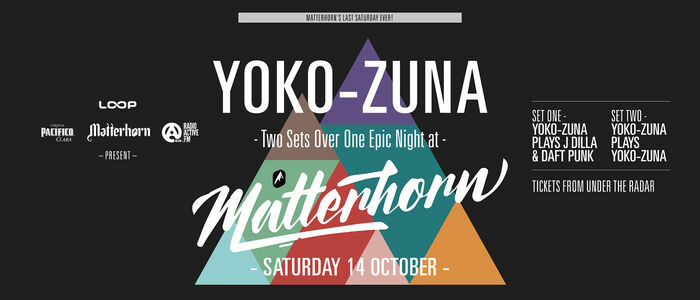 Yoko-Zuna Live At The Matterhorn
When & Where
14 Oct 2017, 9pm, Matterhorn, 106 Cuba St
Loop, Matterhorn, Pacifico and Radioactive.FM present the FINAL SATURDAY at Wellington's iconic Mattherhorn!
Tickets from Under the Radar will be essential.

SET 1: Yoko-Zuna plays J-Dilla & Daft Punk
SET 2: Yoko-Zuna plays Yoko-Zuna
After blowing Wellington away at Radioactive's Reactivate show at the Hunter Lounge in July, Yoko-Zuna return to Wellington for Matterhorn's final Saturday night ever!
Yoko-Zuna will perform two sets - the first consisting of J-Dilla and Daft Punk covers, and the second Yoko-Zuna originals, showcasing latest single 'Voltron' and other material from their upcoming second album.
Tickets essential to catch Yoko-Zuna at one of Wellington's legendary venues final nights!