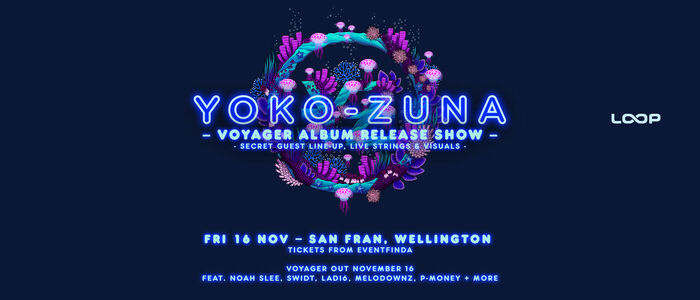 Yoko-Zuna - Voyager Album Release Show - Wellington
When & Where
16 Nov 2018, 9pm, 171 Cuba St, Wellington
Auckland electronic hip-hop four-piece Yoko-Zuna announce two concerts in celebration of their forthcoming album Voyager, taking over Wellington's San Fran for album release day on Friday 16 November, and Raynham Park Studio on Auckland's K Road, on Friday 30 November.
In true Yoko-Zuna style, the concerts will be much more than four musicians on stage, merging art and music with live visuals featuring artwork by Lyle Hawthorne and the band's stunning music videos. The shows will include never to be repeated collaborations with guest MCs, including some of the a-list acts that appear on Voyager, and the band's previous releases Luminols and This Place Here.
The shows will also feature limited edition merchandise and the chance to pick up a copy of the album on limited edition double LP, out on 16 November on LOOP/Kobalt.
Recently named one of five acts leading the new wave of New Zealand hip-hop by the Sunday Star Times, Yoko-Zuna were described as having "earned a reputation for genre-crossing arrangements, top tier features and a live set that could pull any punter in."
Don't miss what promise to be two very special nights with one of New Zealand's most exciting emerging acts.
Yoko-Zuna -Voyager Album Release Tour
Friday 16 November - San Fran, Wellington
Friday 30 November - Raynham Park Studio, 145 Karangahape Road, Auckland
Voyager out 16 November
feat. Noah Slee, SWIDT, Raiza Biza, Bailey Wiley, Ladi6, MELODOWNZ, P-Money, JessB & Bobandii