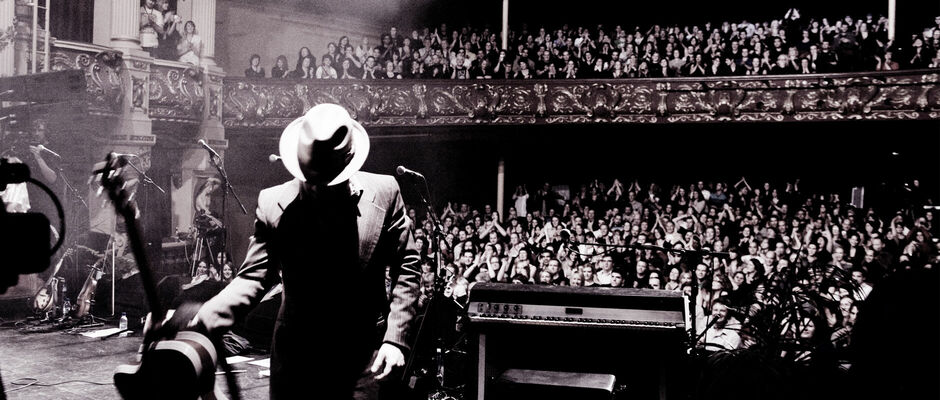 Fly My Pretties
Bio
Fly My Pretties are New Zealand's favourite live collaborative group starring a selection of the country's finest contemporary musicians, all set to a visual backdrop. Since its inception, Fly My Pretties has grown to become a local legend of music that continues to reach people all over the world.
Fly My Pretties first entered New Zealanders' hearts and minds in 2004, with the idea from The Black Seeds front-man Barnaby Weir and Mikee Tucker (Loop), to assemble a talented and exciting group of Wellington-based musicians for a special project.
The objective: To meet, exchange ideas, and then perform and record the results in front of a live audience. Fly My Pretties performed their first season at Wellington's Bats Theatre over five nights. It was a hit, and Fly My Pretties became Bats most attended event of 2004. Likewise, the album 'Fly My Pretties - Live at Bats' achieved platinum-status, received 6 B-Net nominations (winning Best Pop Album), and was released internationally in the UK.
Then in 2006 building on the first event, 'The Return of Fly My Pretties' saw key members reunite with new faces Hollie Smith and Adi Dick. Their new repertoire encompassed an even more diverse range of styles and the theme reflected the state of contemporary Aotearoa New Zealand: A nation isolated in the pacific that is searching for its identity, while remembering where we have come from.
Once again the Fly My Pretties shows were a sell out nationwide and the second album 'The Return of Fly My Pretties' also went on to achieve platinum status, worldwide popularity and won 'Best Roots Album' at the 2007 New Zealand Music Awards.
In 2009 Fly My Pretties returned for a third time, featuring 16 musicians from all over NZ including some of the original Wellington crew and many new faces. The concept of 'Fly My Pretties - A Story' saw Fly My Pretties joined on stage by Barnaby Weir's legendary radio broadcasting father, Dick Weir who wrote and narrated the story that the show was based around.
The story attempts to entertain and reflect on innocence, imagination and the solving of complex problems - which may enable a sustainable future. With this in mind, the cast put together 14 exceptional songs inspired by Dick Weir's story in just 8 rehearsals before taking the show on the road.
The collective's third album of live recordings 'Fly My Pretties – A Story' was released on Monday 17th August 2009 in New Zealand, debuting at #1 on the Top 40 RIANZ album charts and has since sold platinum. In December 2009 Fly My Pretties played two final 'A Story' encore shows at The Civic in Auckland and The Michael Fowler Centre in Wellington to sell out audiences. In 2010, the album was officially recognised with nominations for 'Best Roots Album', 'Best Album Cover' and 'Best Engineer' at the New Zealand Music Awards.
In late 2011, Fly My Pretties united once again with a brand new show that saw a fresh cast collaborate with visual artist, Flox, and homegrown fashion labels, Cybèle and MisteR. The tour also marked the collective's first international foray, playing a sold out Melbourne date as part of the tour.
The new show saw the 16-strong cast unite with an exciting new concept, re-inspired style and re-invigorated sound to challenge audience's senses and redefine what Fly My Pretties was to their fans. Via a unique collaboration, renowned visual/street artist Flox found inspiration in each song to create 16 original and dedicated pieces of art. A unifying thread throughout the show, the artworks were brought to life through projection, animation and visual trickery. These visuals have been uniquely mixed with the live video footage to create a fully integrated and stunning DVD.
The 16 new songs on their 4th CD and DVD represent the best takes from November 2011's tour. These new songs were performed, filmed and recorded live across nine sold out shows.
'Fly My Pretties IV' was released on Monday 19 March 2012. Like its predecessors, the album charted highly on the RIANZ album Top 40, debuting at #3.
In September 2013 - a decade since the first Fly My Pretties show had been performed - Fly My Pretties reformed to embark on 'The Homeland Tour': a musical journey that charted 18 towns and saw them perform 23 shows throughout New Zealand.
Harking back to their musical roots with a sound reminiscent of their first two live albums - Live at Bats and The Return Of – an unashamedly Kiwi sound steeped in folk, roots, soul and rock – the refreshed 12-strong cast delved deep into heartland New Zealand for their inspiration for The Homeland Tour songs and show.
The new show saw partnerships forged with Archives New Zealand and the Alexander Turnbull Library, National Library of New Zealand - both content partners providing precious historical footage and images from the regions that were toured, which were visually woven into each song's performance to craft a unique story of our nation.
The result of the tour is The Homeland Recordings - the best live takes performed during the 2013 tour released on 29 November 2013.
Since then the band has performed periodically, popping up at various festivals all over the country. 2015 saw two landmark shows for Fly My Pretties, two sell-out nights at the re-opening of the prestigous Isaac Theatre Royal in Christchurch, along with a slot on the famous Byron Bay Blues and Roots Festival in Australia.
2016 marks the recording and release of String Theory, album number 6. Recorded across 9 sold-out shows in Auckland and Wellington, the album saw the 14-strong cast of favourites and new faces examining their place in the universe through musical storytelling. January 2017 will mark the first nationwide tour since The Homeland Recordings, with the same cast taking the album across NZ.
PERFORMERS:
Fly My Pretties has always uncovered, cultivated and presented exceptional Kiwi talent to music lovers and fans; with many performers going on to achieve acclaim and success in their own right. The collective has included:
Barnaby Weir, Jarney Murphy, Mike Fabulous, Nigel Patterson (all in The Black Seeds), Age Pryor (Wellington International Ukulele Orchestra / The Woolshed Sessions), Hollie Smith, Samuel Flynn Scott (The Phoenix Foundation) Fran and Laughton Kora (Kora), Nathan 'Nato' Hickey (Grand Prix & Beastwars), Mailee Matthews (CASH), Brendan Moran (The Hasselhoff Experiment), Darren Siggley, L.A. Mitchell (Dave Dobbyn / Dukes), Lisa Tomlins (Sola Rosa), Mara T.K (Electric Wire Hustle), Paul McLaney (Gramsci), Ryan Prebble (Spartacus R & The Nudge), Tom Watson (Cassette and HLAH), Riki Gooch & Rio Hunuki-Hemopo (both TrinityRoots & Fat Freddy's Drop), Ned Ngatae (Dimmer, Eru Dangerspiel), Aaron Tokona (AHoriBuzz, Weta, Cairo Knife Fight) James Coyle & Iraia Whakamoe (The Nudge), Shaun Blackwell (John The Baptist), Louis McDonald (Five Mile Town), Mark Vanilau (Dave Dobbyn / Vanilau, Maxwell, Baker) Justin "Firefly" Clarke (The Woolshed Sessions), Tiki Taane, Anika Moa, Mel Parsons, Kara Gordon, Adi Dick, Bailey Wiley, Tessa Rain, Module, Anna Coddington, Eva Prowse, Jayson Norris, Amiria Grenell, Flip Grater, Miloux, A Girl Named Mo, Ills Winter and Ria Hall (all successful solo artists).