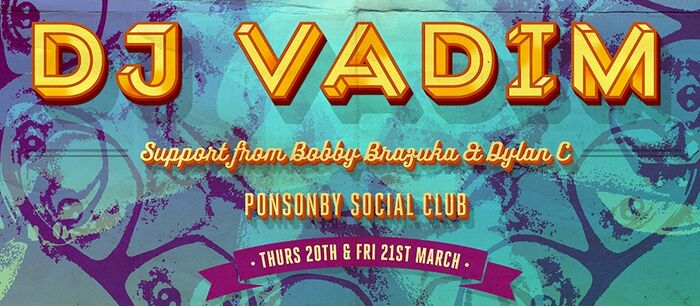 DJ Vadim Dubcatcher Australasian Tour
When & Where
13 – 29 March 2014, Australia & New Zealand
DJ Vadim has toured more than 68 countries on every continent, performing nearly 2,500 times over his 20 year musical career and this March he will be coming down under for a 6-date Australasian Tour for his 11th LP release, Dubcatcher.
The tour will see him play four dates in Australia before heading across the Tasman to play back-to-back dates at Auckland's Ponsonby Social Club.
To celebrate DJ Vadim's Australia & New Zealand tour and the upcoming release of his album Dubcatcher on Loop, we present the Dubcatcher Tour EP & Album Taster, to be released digitally on 14 March 2014.
For more info on the Dubcatcher Tour EP & Album Taster click HERE.
Don't miss your chance to see Vadim and get a taste of his album live before it drops. Like one of the albums' skits, it's all about vibesing up the place. I wanna hear some drums n bass!
DUBCATCHER AUSTRALASIAN TOUR DATES
THURS 13 MARCH – Good Good, China Town, Sydney, Australia – Red Bull Music Academy Club Night
FRI 14 MARCH – Lolas Pergola, Adelaide, Australia, Adelaide Festival
SAT 15 MARCH – Boney, Melbourne, Australia – Red Bull Music Academy Club Night
THURS 20 MARCH – Ponsonby Social Club, Auckland, New Zealand - FREE
FRI 21 MARCH – Ponsonby Social Club, Auckland, New Zealand - FREE
WEDS 29 MARCH – Sugar, Adelaide, Australia