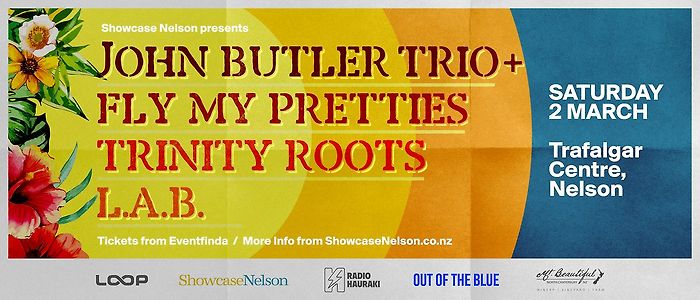 John Butler Trio, Fly My Pretties, L.A.B. & Trinity Roots - Nelson
When & Where
2 Mar 2019, 2pm, Trafalgar Centre, Paru Paru Rd, Nelson
ON SALE NOW FROM EVENTFINDA
John Butler Trio w/ Fly My Pretties, L.A.B & Trinity Roots
Saturday 2 March / Trafalgar Centre, Nelson
Following the release of yet another Australian #1 album, Australian rock/roots group John Butler Trio announce their return to New Zealand in March to play Nelson's Trafalgar Centre on Saturday 2 March.
This show is all ages and will be supersized with the stellar support line up of one of NZ's hottest live acts L.A.B., and the legendary Trinity Roots and special guests Fly My Pretties. The show will see John Butler Trio play all their hits, and introduce Kiwi fans to music from the brand new album Home.
Tickets on sale 7am Monday October 29 from Eventfinda NZ. Limited discounted earlybird and under 18 tickets available. Limited VIP tickets available, featuring a priority Entry Queue, private bar & bathroom area, private seating bay with side of stage view & private coat/bag check.
John Butler is Australia's most successful independent artist, with countless accolades including four APRA Awards and six ARIAs across 20 years of songwriting. His band will arrive in New Zealand on the tail of a 14-date album release tour across Australia, including two dates on the Sydney Opera House Forecourt.
Home is a particularly personal record for the group's frontman, John Butler, who wrote:
"Songs about family life, love, what it means to be a modern man and personal insights into dealing with my anxious projections. Songs have always been my friends. No matter what I'm going through they help me convey the things my heart feels but my brain is too afraid to say."
Joining on support will be L.A.B and TrinityRoots. Fast becoming a favourite on the live scene, L.A.B. is the latest project from Brad & Stu Kora, Ara Adams-Tamatea and Joel Shadbolt. Nominated for Breakthrough Artist at the 2018 Vodafone New Zealand Music Awards, the band are set to release their second album in late 2018, following on from the release of their debut album just over a year ago. Joining the bill on both shows is TrinityRoots, celebrating 20 years as one of NZ's most influential groups. Following on from a sold-out run of theatre shows across NZ, these performances will showcase their classics, along with new material.
The concert will also feature special guests Fly My Pretties. Their first appearance in Nelson in over two years will see Barnaby Weir lead a 15-strong cast of vocalists and musicians, featuring -
Barnaby Weir, A Girl Named Mo, Anna Coddington, Bailey Wiley, Hollie Smith, Lisa Tomlins, Ria Hall, Age Pryor, Laughton Kora, Mike Fabulous, Jarney Murphy, Nigel Patterson (The Black Seeds), Ryan Prebble, Iraia Whakamoe, James Coyle (The Nudge)
Performing a set which will run through the entire back catalogue of FMP favourites, seeing many tracks being performed live for the first time in years. This retrospective set comes as they begin work on their first-ever studio album, which will see classics recorded in studio for the first time.
This is a live show that is guaranteed to entertain, as an Australian music icon takes the stage with support from some of New Zealand's finest musicians. Don't miss out.
Please note - indoor event, runs rain or shine.
All children aged 5-18 require a ticket, and must be accompanied by a parent/guardian.
Children under 5 must be pre-registered with Eventfinda.
Presented by Showcase Nelson, Radio Hauraki & LOOP
Tickets on sale now from Eventfinda
ALL AGES