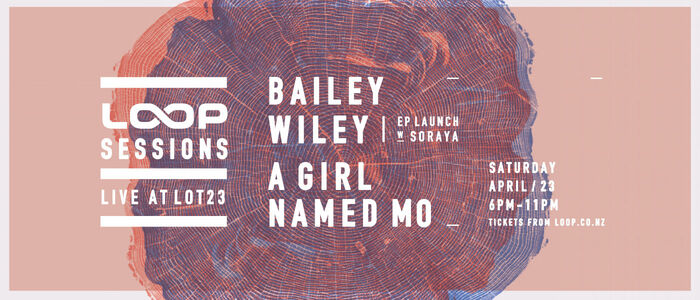 Loop Sessions - Bailey Wiley & A Girl Named Mo
When & Where
23 Apr 2016, Lot23, 23 Minnie St, Auckland
Loop Sessions – Live At Lot23
Bailey Wiley w/ Soraya – EP Launch
A Girl Named Mo
Saturday April 23, Doors from 6pm
Tickets available HERE

We're proud to announce the first instalment of the Loop Sessions – Live at Lot23. A new run of Sessions, promoting some of the finest talent not only on the Loop roster, but also that this fine country has to offer.
Saturday April 23 will see Bailey Wiley celebrate the release of her Still On My Mind EP live at Auckland's Lot23. The much anticipated release is due out April 22, and she will perform tracks from the EP alongside Soraya. Still On My Mind is a reflection of Bailey Wiley coming into her own as one of NZ's most exciting artists, and this performance will further cement that.
Also performing for the first time in Auckland is Wellington-based trio, A Girl Named Mo. The release of their debut single 'Who They Say You Are' in late 2015 let the rest of the country in on a secret Wellington already knew – that A Girl Named Mo are one of the best up-and-coming artists in the scene. A Girl Named Mo's unique brand of soulful electronica is led by the amazing vocal talent that is Moana Ete, and accentuated by the rhythm section of Slade Butler and Marcus Gurtner.
Loop Sessions – Live At Lot23 will showcase two of the freshest artists who are putting their own stamp on the neo-soul sound – Bailey Wiley and A Girl Named Mo.