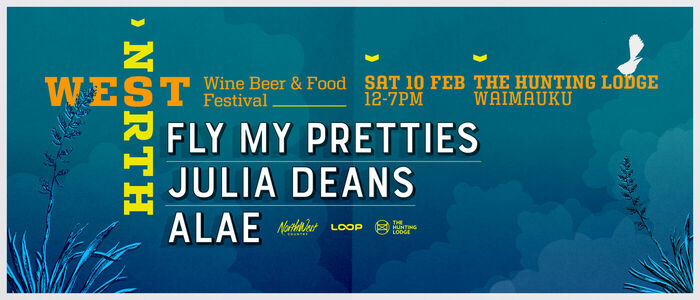 North West Wine, Beer & Food Festival 2018
When & Where
10 Feb 2018, 12pm, The Hunting Lodge, 307 Waikoukou Valley Rd, North West Auckland
NORTH WEST WINE, BEER & FOOD FESTIVAL 2018
FLY MY PRETTIES, JULIA DEANS & ALAE
TICKETS AVAILABLE NOW HERE!
Saturday 10 February, 2018
The Hunting Lodge,
307 Waikoukou Valley Rd, North West Auckland
North West Country & Loop are proud to present the North West Wine, Beer & Food Festival 2018!
This one-day boutique festival will feature a brilliant musical lineup of Fly My Pretties in their only Auckland summer show for 2018, Julia Deans performing alongside a full band, and Alae, alongside the finest local wine, beer and food the North West region has to offer.
Earlybirds sold out in 24 hours, General Admission tickets are on sale now from Eventfinda. Children 15 years or under are FREE with a parent or legal guardian.
Just 30 minutes North West of Auckland, the beautiful Hunting Lodge will play host to this day long event, which will showcase the amazing wine, beer and food that is on offer in the region from over a dozen local vendors.
Local goodness from vineyards Coopers Creek, Kumeu River, The Hunting Lodge, Kumeu River, Soljans Estate Winery & West Brook Winery, and breweries Hallertau Brewery, Colab Brewing & Liberty Brewing Company will be available on the day, plus bespoke food from The Riverhead & The Tasting Shed.
2018's event will see an improved audience experience, including an enhanced beverage offering of wine and beer tasting, more food options and a new kids zone with entertainment on offer.
North West Country and Loop are proud to announce the North West Wine, Beer & Food Festival 2018 will feature live music from:
FLY MY PRETTIES, JULIA DEANS (w/ full band) & ALAE
North West Wine, Beer & Food Festival will see Fly My Pretties' only Auckland show over summer. The collective will appear following on from the vinyl release of String Theory (The Complete Show) this past August, and will be bringing a 13-strong collective again anchored by Barnaby Weir. Julia Deans will be appearing alongside a full band, showcasing the material that has made her one of NZ's most beloved musical acts, including material from her solo back catalogue and Fur Patrol, plus forthcoming new material. They will be joined by Alae, who are fast making a name for themselves with their brand of indie/folk.
Return bus tickets to the venue are available now, departing from Auckland City, Muriwai, Helensville, Kumeu & Riverhead. Free parking will also be available at The Hunting Lodge on the day.
A range of vendors will be selling food on the day, however attendees are welcome to bring a picnic. Please note, all liquids are prohibited from being brought into the venue. Free water will be available on site.
Set in the picturesque surrounds of the The Hunting Lodge Wine Estate – just 30 minutes northwest of Auckland City, the North West Wine, Beer & Food Festival is the perfect summer celebration.
Tickets on sale now from Eventfinda:
https://www.eventfinda.co.nz/2018/north-west-wine-beer-food-festival-2018/auckland/waimauku
Earlybirds SOLD OUT!
GA tickets $59.50+BF
Return Bus tickets $20.50
ABOUT THE BANDS
FLY MY PRETTIES
The Fly My Pretties cast for the North West Wine, Food & Beer Festival on Saturday Feburary 10, 2018 is another collection of some of New Zealand's most exciting new musical talent, along with some FMP favourites.
FULL CAST: Barnaby Weir, A Girl Named Mo, Bailey Wiley, Miloux, Ria Hall, Age Pryor, Iraia Whakamoe (The Nudge), James Coyle (The Nudge), Jarney Murphy (The Black Seeds), Laughton Kora, Mike Fabulous (Lord Echo), Nigel Patterson (The Black Seeds), & Ryan Prebble (The Nudge).
This one-off summer show will treat the audience to a two-hour set, which will consist of Fly My Pretties classics & their latest album String Theory.
JULIA DEANS
From honey-sweet falsetto to menacing growl, the voice of Julia Deans has offered light and shade to a variety of musical endeavours over the years. From fronting Fur Patrol's muscular pop-rock to her electro-pop stylings with Tiki Taane; from co-conspirator with renowned supergroup The Adults to sultry chanteuse in Silo Theatre's production BREL; Deans has never shied from adding new strings to her bow.
The North West Wine, Beer & Food Festival will see Julia Deans preview a new collection of songs, set to be released in early 2018, along with favourites from her back catalogue, including her time in Fur Patrol and the Taite Music Prize-nominated solo album Modern Fables.
ALAE
Alae is what you get when you mix multi-instrumentalists Alex Farrell-Davey and Allister Meffan, two high school mates who are talented musicians in their own right. Add to the mix Jayden Lee on drums, and a new inspiration is born.
Their brand of intimate folk-inspired sounds has seen them play to audiences across New Zealand and Australia in just over two years performing together. The release of new single 'Too Strung Up' on November 10 is set to continue to grow the profile of this truly talented outfit.