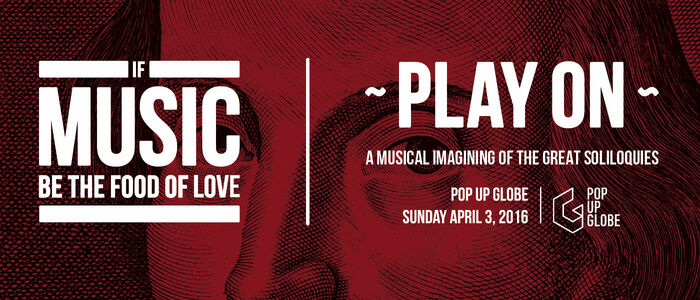 PLAY ON @ Auckland Pop-up Globe
When & Where
3 Apr 2016, Pop-up Globe Theatre, 38 Greys Ave, Auckland
"If music be the food of love, play on…"
From the collaborative producing team that brought you Fly My Pretties and Eru Dangerspiel, LOOP is proud to present 'Play On' at the Pop-up Globe in Auckland.
In a world first, Tui-nominated songwriter and award-winning composer Paul McLaney will enlist the help of high profile actors and musicians to perform 12 of Shakespeare's most well-loved soliloquies as a song cycle for a one-off show this April!
For the only dedicated musical production during the Pop-up Globe season, Paul McLaney will be joined by a group of acclaimed musicians and actors featuring Julia Deans, Laughton Kora, Cameron Rhodes, Maisey Rika, Esther Stephens and Mara TK (Electric Wire Hustle). The group will perform alongside the EDIN string section and a three-piece acoustic band.
The show will also feature one of Shakespeare's most famous pieces of work, Sonnet 18, translated into and performed entirely in Te Reo for the first time ever. Translated by Te Haumihiata Mason, Sonnet 18 will be performed by Maisey Rika and Mara TK alongside the rest of the cast.
Another goal of the show is to highlight and encourage the field of literacy, with the cast interjecting to educate and contextualise aspects of the speech. The timing of the show is also important, as it is set against the social backdrop of more schools removing Shakespeare from their syllabus, citing it as too difficult to teach. The ambition of the show is to make the soliloquies more accessible to an audience who might ordinarily think Shakespeare is not for them.
Laughton Kora and Julia Deans are no strangers to mixing acting and music and blew audiences away as members of the Jesus Christ Superstar cast in 2014. Esther Stephens is both an accomplished musician with her band Esther Stephens and the Means, and was recently seen by audiences on the TV series 'Westside', while Cameron Rhodes has appeared in over 80 theatrical productions in NZ, and was one of the cast members in the critically acclaimed 2014 film 'Housebound'. Rounding out the cast and bringing two of New Zealand's most beautiful and deep voices together are Maisey Rika and Mara TK.
2016 marks the 400th anniversary of the death of William Shakespeare and a group of ambitious Kiwis have recreated as faithfully as possible his original performance space to bring audiences the remarkable experience of being a part of Shakespeare's own audience 400 years ago. Pop-up Globe is the world's first faithful reconstruction the Globe Theatre.
The brainchild of Paul McLaney, along with actor/directors Ian Mune and Peter Elliot, 'Play On' will combine the best in acting and music for an unforgettable experience.
Tickets are available Friday 5th February through Event Finda.
'PLAY ON'
SUNDAY APRIL 3
POP-UP GLOBE THEATRE
38 GREYS AVE, AUCKLAND
TICKETS AVAILABLE FROM EVENT FINDA