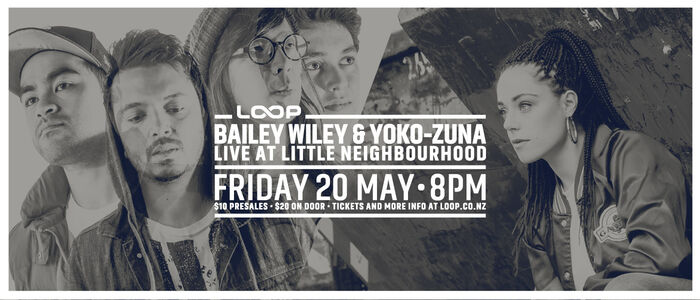 Bailey Wiley & Yoko-Zuna Live at Little Neighbourhood
When & Where
20 May 2016, Little Neighbourhood, 94 Victoria St, Christchurch
Two of NZ's most exciting musical talents will bring their explosive live show to Christchurch for the first time. Bailey Wiley and Yoko-Zuna will play Little Neighbourhood on Friday May 20, showing audiences the incredible combination of Bailey's neo-soul, and Yoko-Zuna's electronic, hip-hop beats.
Bailey Wiley comes on the back of the release of her new S.O.M.M. EP, which has been gaining huge fans both here and across the globe. Eight tracks which showcase an artist in every sense of the word, opening track Dos Fuegos clocked up over 50,000 streams on Spotify in less than a week. Little Neighbourhood audiences will witness Bailey collaborating live on stage with Yoko-Zuna.
Yoko-Zuna are gearing up for the release of their new Luminols EP, with Christchurch's audience getting one of the first chances to hear tracks. Five tracks recorded at Auckland's Red Bull Studios which show a band pushing the boundaries of their electronic/hip-hop sound.
Bailey and Yoko-Zuna will be performing together for this performance, bringing tracks from both act's catalogues to life in an exciting live setting. Brand new tracks, previous collaborations, all are on the cards when the two take the stage at Little Neighbourhood. Bailey Wiley and Yoko-Zuna live at Little Neighbourhood is an event you won't want to miss.