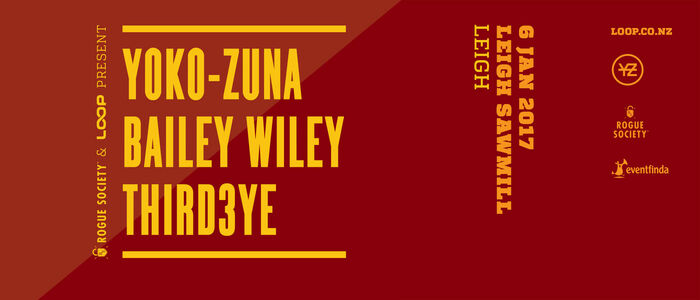 Yoko-Zuna, Bailey Wiley & Third3ye - Leigh Sawmill
When & Where
6 Jan 2017, 8pm, Leigh Sawmill, Leigh
ROGUE SOCIETY GIN & LOOP PRESENT
YOKO-ZUNA, BAILEY WILEY & THIRD3YE
FRIDAY JANUARY 6th
LEIGH SAWMILL, LEIGH
Celebrating a year which has seen all three acts release acclaimed new EP's, Rogue Society Gin & Loop are proud to present two special shows featuring Yoko-Zuna, Bailey Wiley & Third3ye. Both shows will see sets from all three acts, along with the on-stage collaborations that have seen each act's fan bases grow through 2016.
In a year which saw Loop's largest musical output in nearly a decade, Yoko-Zuna, Bailey Wiley and Third3ye have all further established themselves as three of the most exciting artists in NZ music.
The release of Yoko-Zuna's Luminols EP brought with it a spot on the shortlist for 2016's APRA Silver Scroll, along with a number of sold-out shows across Auckland. Bailey Wiley's S.O.M.M. saw her fulfil the promise of previous singles, and cemented her as the new voice of Soul/R&B in NZ. Third3ye's 3P reunited MeloDownz and Angelo King after some time apart, showing once more why they are a force both live and recorded.
These two shows will see each act not only celebrate their successes of the last 12 months, but also give a taste of what is come in 2017. All three acts are playing some of the top festivals across summer, and this will be a rare chance to catch them in an intimate setting.
Limited Early Bird tickets are available now from Eventfinda. Thanks to Rogue Society Gin.